Requests are up at local food bank
Posted on August 18, 2015 by 40 Mile Commentator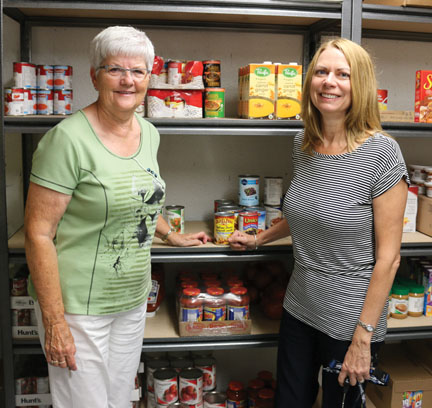 Lisa Braat and Vanda Brown show the well-stocked shelves at the Bow Island food bank, which has seen an increase in requests from this time last year.
By Jamie Rieger
Just a few weeks ago, the shelves at the Bow Island food bank were almost bare, an indication of the growing need in the community.
"It has been busier than last year. During all of last year, he had 87 food orders and by the end of July for this year, we were already at 65," said Vanda Brown.
As the goods on the shelves started to dwindle down, calls were made to other southern Alberta food banks to see if any could help out.
"Taber and Brooks really helped us out a lot and our community has been really good," said Brown.
Lisa Braat, a volunteer with the food bank said that slowdowns in the workforce has led to more people coming for assistance.
"We have new families and a lot of people whose hours have been cut at work. They're still working but not making enough money now," said Braat.
Currently, the Bow Island food bank is in need of soup, canned fruit, vegetables, canned, ham, and sugar, as well as coffee and tea.
The food bank spends approximately $1,200 a month for fresh food items such as milk, eggs, and cheese, so they welcome cash donations as well to help pay for these purchases.
The volunteers will also purchase personal hygiene items, dish soap, and laundry soap.
"Without our cash income, we would not be able to provide the fresh stuff," said Braat.
Besides Bow Island, the food bank also serves Foremost and the County of Forty Mile. For more information, contact 403-545-2023.