Mitchell loves his steer riding
Posted on September 1, 2015 by 40 Mile Commentator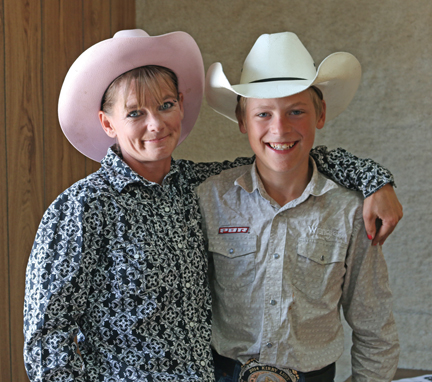 Bow Island's Tyler Mitchell. pictured here with his mom, June, started steer riding last year and loves every minute of it.
By Tyler Mitchell
For the past year, and for his first year competing in steer riding, Bow Island's Tyler Mitchell has been riding in honour of his friend, KIrby Lust, who past away in a MVC last winter.
"Kirby taught me a lot about rodeo and he is the reason, I am in steer riding," said Mitchell.
Mitchell has been competing every weekend at amateur rodeos in southern Alberta and Saskatchewan, winning the event in Coutts in June.
Mom, June, who travels with Tyler to his rodeos said watching her son coming out of the bucking chutes on the back of a bucking steer is a little nerve-wracking.
"It is nerve-wracking and my heart starts going faster," she said.
Tyler said he sustained a concussion at the Foremost rodeo and thanked the bullfighters for helping him out.
Mitchell said he is not sure if he will compete in bull-riding once he gets a little older.
"I'm not sure. I'm going to try junior bull-riding to see if I like it first," he said.