New solar array at LMT the wave of the future
Posted on September 8, 2015 by 40 Mile Commentator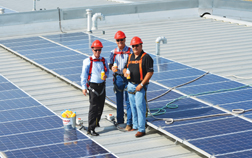 From left: Medicine Hat mayor, Tim Clugston, Cypress County reeve, Richard Oster, and LMT president Terry Meier
By Tim Kalinowski
A three generation, successful family company in Dunmore has taken one giant step forward into a greener future.
LMT Enterprises unveiled its new 192 panel solar array, the largest in Cypress County, with a major media event last Wednesday.
VIPs on hand for the occasion included Cypress County reeve Richard Oster, Medicine Hat mayor Ted Clugston, Jason Atkinson, director of operations at Enmax, Lisa Kowalchuk, executive director of the Medicine Hat and District Chamber of Commerce, Chamber president Khrista Vogt and Medicine Hat Catholic School Board chairman Peter Grad, among other local luminaries. Representing LMT Enterprises were its president and owner Terry Meier as well as the company's co-owner Darcy Meier.
The unveiling included a crane tour of the rooftop array for local media representatives as well as a general scrum with the principle players in bringing this important solar project to the Medicine Hat region.
The 192 panel array was installed by Terralta and financed for about $150,000 through a lease-to-own agreement with Alberta green energy powerhouse Enmax. The agreement includes a lifetime service provision agreement and is expected to save LMT Enterprises 25-30 per cent of its energy cost now that it is fully operational.
Enmax director of operations Jason Atkinson said while LMT is on the cutting edge of solar power generation in the region, the numbers show Medicine Hat and area as a whole are leading the solar charge in Alberta.
"Most of the solar in Alberta going in residentially in Alberta is going into the Medicine Hat region just because of the extra incentive of the HatSmart program and with the Enmax program and our low APR lease. It enables a customer to get into solar at a very low capital layout," explained Atkinson.
Atkinson said it didn't take much convincing to have LMT take this bolder step forward as the cost savings involved spoke for themselves.
"Terry was looking at investing in a ten kilowatt system. I talked to Terry and said I can take that 10 kilowatt of capital and turn it into a much larger system for you. You are going to pay for the energy monthly anyway and this way you will almost be at grid parity; so why not put your own generating asset up and save 25-30 per cent of your consumption? It pulled the deal together."
Terry Meier, president of LMT, said he had been thinking about the huge upside to bringing in a solar array to defray some of his power consumption costs anyway. Enmax's lease-to-own program made the whole idea that much more financially feasible.
"We were entertaining doing it on our own until Enmax came to the table," confirmed Meier. "This made it a much simpler deal doing it by a lease rather than a purchase. Our company has been around for 66 years and he have always looked at new technology. This is just another instrument of saving ourselves costs by using the solar panels. For us, it is all part and parcel of reducing our costs in the future. It's like any other piece of equipment that way to us."
Meier went on to say another upside to the whole deal for him personally was having the great feeling of doing something positive in his business to help the environment.
"We have always been a green company where we can," said Meier. "And we're in a dirty industry. This helps to give back some to the environment as well, not just always taking. As a company we always look 10 or 20 years in the future. We don't just look at what's coming next year."
Reeve Richard Oster was given a rare chance, alongside Mayor Ted Clugston and LMT President Terry Meier, to get an up close rooftop perspective on the solar array. Oster said he was incredibly impressed by all that he had seen and heard.
"I would like to congratulate Terry and Darcy Meier on their forward thinking. They have a large electrical demand, and will now see a savings on their power bill through a process that has nothing but a positive effect on our environment. Cypress County encourages all of our ratepayers to explore this solar option," said Oster.