Polka Fest celebrates tradition and good music
Posted on September 15, 2015 by 40 Mile Commentator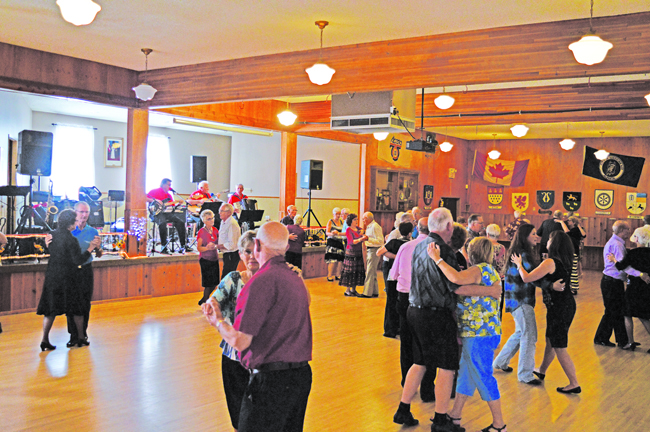 About 100 dancers took part in the Medicine Hat & District Polka Fest at Redcliff' s German Harmony Hall last Sept. 11-12
By Tim Kalinowski
The bright, cheerful sounds of Polka music kept Redcliff's German Canadian Harmony Club hall jumping and shuffling all weekend long as the Medicine Hat and District Polka Fest celebrated it's 20th anniversary in the area. Local bands The Pinfeathers and the Country Squires laid down the accordion laced tunes to a group of about 100 dancers Friday night and Saturday.
Isabelle and Joe Blatz came all the way down from Olds to be in Redcliff. They have not missed a single local Polka Fest in that time. Joe said he and Isabelle grew up with the music and have a passion for it.
"We know people from here right to Regina to Humboldt. We used to travel to all the Polka festivals, but not so much that last couple years or so. For a good Polka the travel is always worth it. We love to dance and we both love that good accordion music. Isabelle is also a great dance partner."
Isabelle said she and Joe have danced their way through their married lives together to a largely Polka soundtrack.
"It is what we grew up with and it's what we know. It is really happy music and there is a lot of socializing involved. I really don't have a favourite piece of Polka music; they are all so good. At Polka Fest they keep us moving here for the whole time."
Linda Cleveland is one of the main organizers for the event. Cleveland said since the Medicine Hat and District Polka Fest moved over to Redcliff a few years ago they have had nothing but rave reviews from the dancers. It has put a new charge in their step as they enter their third decade of celebrating Polka in the area.
"This is 20 years for Polka Fest Medicine Hat. It means a lot for the whole (Polka) community in the area to have this excellent dance floor and facility at the German Harmony Hall in Redcliff."