Rain can't dampen spirits at 20 Mile Post Days
Posted on September 15, 2015 by 40 Mile Commentator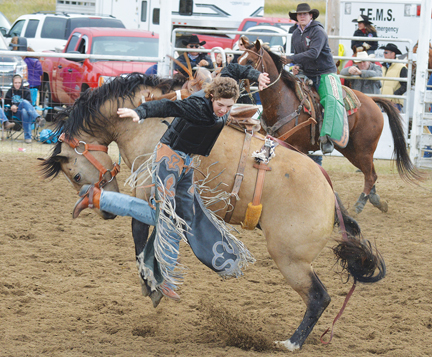 Saddle bronc rider, Ashton Carson, competed in Irvine's 20 Mile Post Days on Sept. 7.
By Tim Kalinowski
The cold and rainy conditions played havoc with Irvine's annual 20 Mile Post Days celebration and led to disappointing numbers at the community's annual trade fair Sept. 4-7. The parade and other events were cancelled on Saturday due to the rain and the rodeo was pushed back to Monday, Sept. 7 due to the cold. The trade fair at the Irvine Sports Complex probably had the greatest damage done as numbers were low all weekend long. Without a parade and other events to draw visitors there wasn't much organizers could do about it but gamely go ahead anyway and hope for the best.
However, with the sunshine peeking through at times on Monday the 20 Mile Post Days Rodeo had decent weather and was largely successful in terms of attendance and concession sales. The wind was a little bit raw, but visitors were treated to some fun rodeo action. Highlights of the day included usual rodeo fare such bullriding, tie-down roping, team roping, bareback and saddle-bronc riding and barrel racing. But the focus of the day was on youth; with events geared toward engaging the next generation of rodeo participants. There was steer-riding, junior barrel racing and team roping in that respect, but also some hilarious and fun events for the youngsters with ribbon-roping and what was probably the most entertaining event in the entire rodeo: The wild pony ride.
In the wild pony ride teams of three kids had to first hold onto the ponies, (which were none to happy to be there), and then one had to climb up the halter line to get on the back of the rampaging critter and ride it some distance to get a score.
The kids learned some things: First, ponies aren't the gentle beauties of cartoon and film; second, they are deceptively strong for their size; and third, team work is extremely important to board a wild pony. Only one team managed in the end, but not for the others' lack of trying. Special credit has to be given to the never give up attitude Haedyn Davies who, despite being the only one of his team still standing, tried to hold a wild pony by himself and ended up getting dragged a good 30 yards down the arena. He was still spitting out dirt 20 minutes later.
While the weather could have been kinder to Irvine during its 20 Mile Post Days weekend, the celebration ended strong with a great day at the rodeo.