Prostate cancer awareness month in Redcliff
Posted on September 22, 2015 by 40 Mile Commentator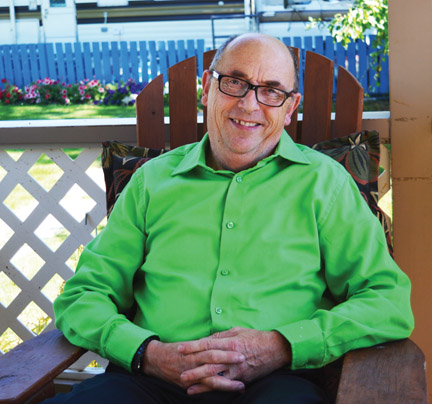 Redcliff resident, Phil Buisseret, was diagnosed with Stage 1 prostate cancer last November. He is asking all men who read his story to get their PSA and their prostate checked on annual basis.
By Tim Kalinowski
Prostate cancer. Many men don't want to talk about the possibility of it, but nonetheless it is a fear which always lingers in the back of the mind. The problem is prostate creeps up on you, and can sometimes take decades to grow. There are no overt symptoms. Nothing that can't be passed off as one of a hundred other medical possibilities; especially in the early stages. By the time the symptoms become apparent it is, sadly, too often already too late.
Redcliff resident Phil Buisseret is 66 years-old. He has never had a day in his life where he had felt too sick to go to work or function. He keeps himself fit. He eats well. And he has gone for a yearly physical, including a PSA test, since he was 45 years-old. Last November Buisseret was diagnosed with Stage One prostate cancer. The revelation hit him like a thunderbolt.
"My brother, who is a physician in England, told me to always get PSA checks every year. I have been keeping track of that since I was 45. It was fairly stable, but the last few years it started to go up a bit. The normal range for me is 4.5 and then it suddenly went up to 9. My doctor said you better see the specialist so I did. It was cancer, and I was absolutely floored," remembers Buisseret.
The doctor laid out Buisseret's options: Prostate cancer is generally slow growing so Buisseret could wait and see; he could get radiation treatment to target the cancer cells; he could have brachytherapy to shrink the cancer cells slowly over time; or he could opt for surgery to have his prostate removed.
"I walked out of the doctor's office and I was kind of stumbling in a haze," admits Buisseret. "But I had a feeling right away if I had cancer in my body I wanted it taken out."
Buisseret had to wait three months for the surgery. It was the most difficult period of his entire cancer episode to date.
"I new it was a slow growing cancer in my mind, but every little pain you get you go that's probably the prostate. That became awful. You just start to imagine everything you get is because of that cancer. That three months gave me a long time to think. My wife and I told our two sons about the cancer. I told my mother-in-law and my two brothers in England. And they were all in shock. As soon as they hear the word cancer they think: 'That's it your finished. It's all over. It's nice knowing you. When do we come over for the funeral?' They didn't say that, but I got that feeling," says Buisseret with a little laugh.
Buisseret researched the procedure he was about to undergo and followed all his doctor's directions in preparing for the surgery to the letter. He had the surgery done in Calgary at the Southern Alberta Urology Institute, a world leader in prostate cancer treatment. That gave him a great deal of confidence going in.
"It was robotic surgery, which was really neat," remembers Buisseret. "The surgeon sits at like a gaming consul and he's looking at a screen with these arms above you, and then they put you to sleep. It's about five incisions and it takes you four and a half hours. They take the prostate out and rejoin the urethra back to your bladder. You have a catheter after that for about two weeks and then you get the catheter taken out."
So far Buisseret has recovered well from his surgery. He's not quite out of the woods yet, but his prognosis is excellent.
"After the surgery I went up for a follow up and the doctor said the cancer was actually a little worse than diagnosed. The cancer was also in an awkward spot on my prostate so it was hard to get to at the neck of the bladder. He told me I don't know if I got it all because there still could be some cells attached to the neck of the bladder. I was really relieved to have gotten it out, but it's still a little scary. I don't consider myself completely cured. I have to be vigilant for the next five years. I have been going in for tests every three months and so my (PSA) scores have been excellent."
Buisseret wants to remind men to not take their health for granted and always get your PSA checked.
"Get your PSA checked every year for sure. And when it looks like there might be something going on, don't be afraid to see a specialist and take his advice and go from there.  If you ignore things, they are just not going to go away. Don't be afraid to get the treatment. It's a lot better than the alternative."
In solidarity with other local men who have experienced prostate cancer Mayor Ernie Reimer has proclaimed September to be Prostate Cancer Awareness month in Redcliff. Reimer hopes the proclamation raises awareness of the importance of men's health in the area.
"There a number of people (like Phil) in Redcliff who have had prostate cancer. One person I knew in town way back when had that problem, never had it checked and, of course, never survived. This proclamation is meant to raise awareness and encourage local men to go get themselves checked regularly. It's preventative maintenance; let's put it that way. Your body definitely inspections on a regular basis," says Reimer.