Ell turns 105 years young
Posted on September 29, 2015 by 40 Mile Commentator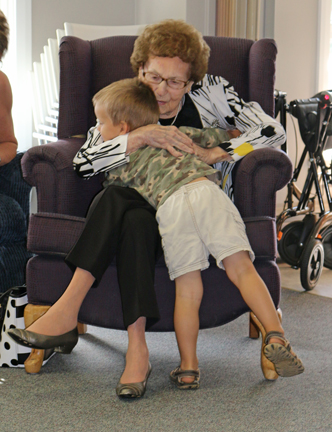 Hudson Weatherhead gives a hug to his great-grandma at her 105th birthday party on Saturday.
By Jamie Rieger
In 1910, the first movie filmed in Hollywood, In Old California, was released. The Canadian Parliament accepts the creation of the Royal Canadian Navy and Prime Minister Wilfred Laurier passed the Naval Service Act. George V becomes King of the United Kingdom, Tel Aviv is founded, Alva Fisher patents the electric washing machine, and George and Rose Ell gave welcomed baby girl, Mary on Sept. 26.
This past Saturday afternoon, a party was held at Pleasant View Lodge to celebrate Mary's 105th birthday.
Family and friends gathered for an hour of entertainment by Don thompson and Harolde Nordene, who have both known Mary for many years and played some of her favourite tunes.
Mary, who has always enjoyed dancing, sat tapping her foot to the music as daughter, Marilyn Weatherhead sat next to her.
"Live your life and take your vitamins is her motto. She is in great shape for 105," said Weatherhead.
While Mary stopped participating in her weekly bowling league at 103, she still enjoys playing bingo.
Granddaughter, Jill Weatherhead said her family visits her grandma once a week.
"We feel very honoured to live as close as we do to grandma. There are very few people in the world who have seen as many things as she has," said Jill, adding that people and relationships have always been very important to Mary.
"She just moved into the Lodge six months ago and like anything in her life, she just rolled with it."
Jill also said Mary still loves cheering on the Toronto Blue Jays, who have been giving her lots to cheer about this summer.