Redcliff Youth Centre celebrates 25 years in the community
Posted on September 29, 2015 by 40 Mile Commentator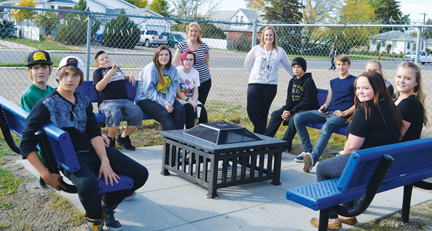 The Redcliff Youth Centre offers many programs like movie and cooking nights. A firepit was recently donated and allows them so they can now have campfire nights.
By Tim Kalinowski
We all need a place where we can go to decompress after a stressful day. Someplace we can just be ourselves. As we get older that might be a lounge, a yoga studio, a workshop or a garden. In Redcliff kids 10-17 have that need fulfilled by the Redcliff Youth Centre, which is celebrating its 25th year in the community. Nearly 200 kids regularly use the facility which does triple duty as a hang-out joint, entertainment centre and program delivery platform for youth in the community.
Thirteen year-old Sarah Johnson has been coming to the Youth Centre for four years.
"It's kind of like the place to go in Redcliff," explains Johnson. "You hear all the kids talking about it. You can go meet up with friends and just chill. We always have events going on; parties, fires… It's a good atmosphere too."
Johnson says, unlike school, when she comes to the Redcliff Youth Centre there is no stress or pressure to succeed or to fit a certain standard of behaviour.
"The difference is in school you don't really get to be who you are and free. You tend to focus more on your work, and the teachers don't treat you the same way; here everybody is treated like family. We all care for each other and listen. It's just a really good place. I think everyone should come here."
Thirteen year-old Rylan Quirion comes for many of the same reasons Johnson does, but also likes having access to the facility's computers, games and other regular activities.
"I like hanging out with people, talking and having fun. You can go outside and play sports or you can inside on the computers; and eat. They always have snacks," says Quirion with enthusiasm.
Briana Van Zeggelaar has been the program coordinator at the Redcliff Youth Centre for the past three years. She says it's a dream job to be able to get to know and work with local youth.
"I enjoy being able to get to know kids and build relationships," says Van Zeggelaar. "We hang out. We do homework together. We cook suppers together. We have movie nights together. A lot of the socializing aspect is what I enjoy about it. Everything is free. So for those kids unable to afford things everything here, for the most part, is free for them. We have over 190 kids registered, so I guess that says something in and of itself really."
Van Zeggelaar says what she and other staff try to provide is a family atmosphere where the kids feel safe and comfortable and can join in various activities.
"Basically we are here to provide a space for kids to stay off the streets, and a safe place for them to hang out and socialize," says Van Zeggelaar. "It is very rewarding to work here. You put your heart and soul into a place where youth and kids enjoy coming so when they say thank you when they leave, and see you tomorrow; that's what makes it so rewarding."
The Redlciff Youth Centre is open 3-8 p.m. Monday-Thursday and is open 3-10 p.m. on Fridays.