Veterans' supper an emotional affair in Redcliff
Posted on October 6, 2015 by 40 Mile Commentator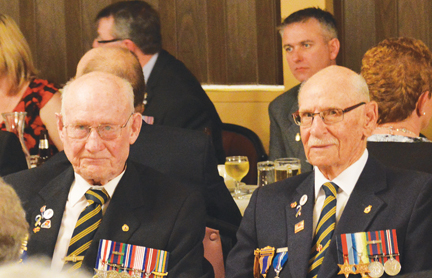 WW2 veterans, George Hope and Joe Baier were guests of honour at the Redcliff Legion Veterans Supper on Friday evening. Both are lifetime members of the Redcliff branch.
By Tim Kalinowski
Redcliff Legion Branch No. 6 held its annual Veteran's Supper on Friday, October 2. This year's supper was a beautiful affair with good food and plenty of opportunities to socialize with local veterans. It was also, sadly, an occasion to mark the passing of one of the Redcliff's most beloved Second World War veterans, past president Roy "Red" Newnham.
Newnham passed away last Saturday, Sept. 27  at the Carmel Hospice in Medicine Hat. His funeral held just prior to the dinner on Friday night so many in attendance had him strongly in mind as the evening proceedings got started.
Redcliff Legion past president Dennis Rathwell, who served as MC for the dinner, began the evening with a moment of silence for Newnham.
"It's a little hard for me to talk about Red, but I just want to mention he was very well-respected in our community and also the branch," said Rathwell choking up a little. "He was a World War II vet with the air force. He flew over 30 missions and he also was a past president of this branch and a life member."
MLA Drew Barnes was then invited to the mic to make some "brief" comments. Barnes immediately, unintentionally, lightened the mood as he pulled a three page speech from his pocket which drew laughter from those in attendance.
Barnes made a lovely speech which paid tribute to all the work the Royal Canadian Legion does in the community.
"I would like to thank the Legion, and all of its volunteers, for its contributions to the community. When we think of veterans and the Canadian Legion we rightly think about their contribution to the country serving in our armed forces. But we sometimes forget that veterans and the Legion serve our communities as well in a way that no others can.
"Anywhere where a Legion is found you will find it makes up a vital part of the fabric of that local community. Veterans have played an enormous role in shaping our country," said Barnes, in part.
After that Medicine Hat Legion Branch chaplain Rev. Ron McDonald said the evening prayer. He asked those in attendance to keep all veterans, particularly Red Newnham, in their thoughts and prayers.
"We are so blessed to be here tonight as we remember the one who has just passed from our midst," said McDonald. "The veterans, that's why we are here, Lord. Those that gave their very all. Those who came home badly bruised and beaten. We just pray that we will hold them in our hearts. That we never forget what they gave so much for their country. As we gather in this place may we be remembering all the time why we here. As we join together may we enjoy the fellowship and may we enjoy the camaraderie. Lord, we do pray that you will bless us."
Lt. Col. John Scott, base commander for DRDC-CFB Suffield, and his wife Allison were among the VIPs present for the feast. As well as Redcliff Mayor Ernie Reimer and his wife Cheryl.