Liberals ecstatic with majority win
Posted on October 20, 2015 by 40 Mile Commentator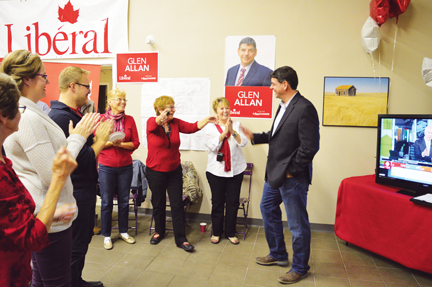 Local Liberals celebrated the party's majority win on the national stage on Monday evening and say thank you to local candidate, Glen Allan for his second place finish. Conservative candidate, Jim Hillyer won the local election by a landslide.
By Tim Kalinowski
Liberal Party supporters in Medicine Hat-Cardston-Warner had a lot to cheer about on Monday night as their party's red sweep rolled over the country from coast to coast. The cheers started early in the evening when it became apparent the Liberal Party had won every sit in Atlantic Canada, and the party continued as the results rolled in favour of a Liberal majority in the rest of the country.
Liberal candidate Glen Allan came in a long way second to Conservative candidate Jim Hillyer in this riding but the mood in his campaign office certainly did not reflect that.
Allan was close to tears as he reflected on his campaign and his party's national victory.
"This has been a great experience," said Allan to his cheering supporters. "We're not done yet. We're going to come back in four years."
Allan said he was thrilled to be involved in leader Justin Trudeau's positive campaign message.
"I think Canadians again just said, you know what, it's a plan for real change. It's something we can embrace and it's a positive message. With all this fear and divisiveness, it's nice to see Canadians voted for a government that ran on hope and hard work."
Medicine Hat-Cardston-Warner long-time Liberal campaign manager Bev Potter thanked Glen Allan for offering a real alternative to Conservative candidate Jim Hillyer in the riding. But the story for her was all about the great campaign run by her party's leader Justin Trudeau.
"There was something very magical tonight," said Potter. "0ur supporters were very animated… Nationally the result offsets our disappointment with the local result. Justin Trudeau ran a solid campaign right from the beginning. He never wavered and he never succumbed to American-style attack ads or American-style politics to make divisiveness in society. You do not divide and pit one section against another. Justin never gave them the honour of responding to those kinds of personal and divisive attacks."
On the national stage both Justin Trudeau and Stephen Harper won their own seats easily. Green Party leader Elizabeth May was also poised to win her seat and return as the only member for her party. NDP leader Thomas Mulcair was fighting for his own seat in Quebec at the time of publishing.
A gracious Stephen Harper conceded the election result to incoming Prime Minister Justin Trudeau.
"For the past 9 1/2 years it has been an unbelievable honour to serve as your Prime Minister… While tonight's result is certainly not the one we had hoped for, the people are never wrong. Tonight Canadians have elected a Liberal government and it's a result we accept without hesitation. I have spoken to Mr. Trudeau and offered him my congratulations, all of our congratulations, on his successful campaign." A Conservative Party press release released just before Harper's speech said Stephen Harper will be stepping down as party leader, but would continue to serve as an MP. A jubilant Justin Trudeau then took to the stage to share the vision he will enact as Prime Minister over the next four years. After thanking Prime Minister Harper for his 10 years of service, Trudeau returned to his theme of hope, positivity and inclusiveness. "We ran with a vision and agenda for this country that is positive and ambitious and hopeful. My friends, I promise you tonight I will lead that government. We have made that vision a reality. I will be that Prime Minister. The unofficial result at the time of publishing was 185 seats for the Liberals, 101 seats for the Conservatives, the NDP held onto 40 seats and the Green Party had 1. The Bloc Quebecois had 10 seats with their leader Gilles Duceppe losing his own seat.
Note: This post has been edited to add on the  quotes and information from the national party leaders, and now reflects what appeared in the print version of this story.