Small business the driving force for rural communities
Posted on October 20, 2015 by 40 Mile Commentator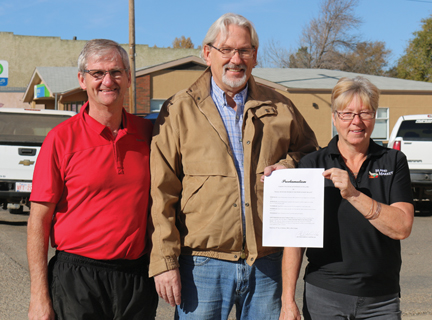 On Oct. 14, Bow Island mayor, Gordon Reynolds (centre) proclaimed this week to be Small Business Week in the community. Pictured with Reynolds are Robin Knibbs, owner of Ace Hardware and Bernice DeLeenheer, president of the Bow Island Chamber of Commerce.
By Jamie Rieger
Small business is the driving force of many, if not all rural communities. Whether they are a one-man show operating a business out of their home, a family-run business that provides a service to the community, or a manufacturing business with a couple dozen employees, small business it what keeps rural Alberta moving forward.
According to Statistics Canada, small businesses account for 96.7 percent of all businesses in southern Alberta. These small businesses are your local grocery stores, gas stations, hardware stores, and home-based day care centres and they work together to support each other.
"We show support for the town. Our customers support us. We help each other," said Mark Kim, owner of Tempo Gas in Bow Island.
Small businesses employee local residents in offering their goods and services, and in many cases, give back to the community by sponsoring and supporting local sports and non-profit organizations. And, they are the first to hire young people to give them a little work experience and pocket money.
Young workers, aged 15-24 made up 21 percent of the workforce for small businesses with less than 20 employees and 18 percent for businesses with between 20 and 99 employees in Alberta in 2013.
Kim currently employees five STEP students at his gas station and said it is getting increasingly difficult to find young people in town that he can hire.
"It is getting harder and harder to hire young people. So far, this year hasn't been too bad, but it is getting harder," said Kim.
The importance and value of small business is recognized in Alberta and the province continues to lead the country when it comes to the number of businesses per 1,000  people with 39.3. The national average is 31.7 small businesses per 1,000 people.
In a statement recognizing Small Business Week, Alberta premier Rachel Notley said, "Alberta is a good place to live, explore new ideas, and launch a new business. However, being good is not good enough. We want Alberta to be a great place to start a new busines, build on a new innovation, and get a new idea off the ground."
When a small business in rural Alberta thrives, the whole community benefits; through hiring local employees, offering local services and product, and in giving back and supporting the community that supports them.