County cuts ribbon on biggest infrastructure project in its history
Posted on October 27, 2015 by 40 Mile Commentator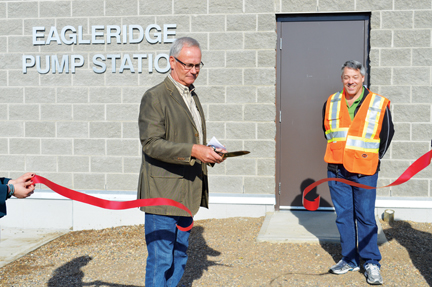 Cypress County outgoing reeve, Richard Oster cuts the ribbon to declare the new Eagleridge pump station in Dunmore and the $14.3-million Dunmore-Irvine-Walsh pipeline open on Friday afternoon.
By Tim Kalinowski
Cypress County councillors and staff held a formal ribbon-cutting ceremony at the brand new Eagleridge Pump Station in Dunmore on Friday.  The ribbon-cutting marks the end of a seven year saga to bring water security and quality to the hamlets of Irvine and Walsh, which have both struggled with water issues and aging infrastructure for many years. The new 50 km pipeline extends from the City of Medicine Hat water treatment plant to Dunmore to Irvine and finally to Walsh. The project cost $14.3 million to complete.
Reeve Richard Oster, who used the ceremonial gold scissors to cut the ribbon to formally declare the project complete, said the county had a feeling of relief that the new pipeline was up and running and providing safe, clean, potable water to Irvine and Walsh.
"Talking to the people in Irvine, they are pleased they are going to have some water that is not going to cause them staining of their fixtures and is going to taste good, said  smiling Oster. "Walsh has struggled with water for as long as we can remember. Now they are going to be enjoying the same water they would if they were visiting Medicine Hat… One of our biggest concerns is would if the system in Irvine had failed before this was done, it would have looked really bad to have to try to help those people down there continue with their drinking water. I think we did the right thing. It was a lot of money and when council did finally decide it was time to do it we are even more confident now we made the right decision."
Oster was grateful for the support of the City of Medicine Hat who agreed to provide the treated water filling the pipeline after the county bought the water licenses from the South Saskatchewan River.
"Without the cooperation of the City of Medicine Hat we could never have done this. For the county to try and build their own water treatment plant would have been unrealistic," said Oster.
In his preliminary speech before cutting the ribbon, Oster thanked the contractors and county staff who worked so hard to make the pipeline and new pump and water filling stations in Dunmore and Irvine a reality. He felt confident the project would continue to pay dividends for community development in Dunmore, Irvine and Walsh in the future.
"There is enough capacity in the line to provide about 130 outlets on a future water co-op for rural residents near the line and 18 years of growth for Walsh and Irvine. The new capacity in Dunmore will provide growth to a population of 3,200, tripling its size from today," explained Oster. "I wish to thank Doran Jensen, our utilities supervisor, and his staff for the great job they did working with MPE Engineering and all the contractors involved."
Dain Perrior, senior utility operator with the county, stood in for Doran Jensen to answer any technical questions on the pipelines and pump stations. Perrior explained this project was seven years in the planning and it took nearly two years to complete once construction got started.
"We transferred water from the City of Medicine Hat out to our old Dunmore pump station, which has been upgraded to handle the capacity," explained Perrior. "From there we transfer water to Eagleridge Pump Station which is then sent down the pipeline to Irvine. So that supplies Irvine and then the pipeline carries on to Walsh. Where Eagleridge is positioned in its topography is uphill of everything so we can shoot it down to Irvine and Walsh through gravity."
Perrior felt the infrastructure and added capacity coming out of this project will definitely make water supply easier for any future developments all along the pipeline.
"It's nice to finally see it done," said Perrior. "It's great infrastructure we have installed. Everything is state-of-the-art and brand new. For the people of Cypress County it's going to be great for them. It's going to make it that much better for our hamlets needing this water."
The $14.3 Million dollar project saw three new pump stations constructed, two new underground water reservoirs built, two credit card operated bulk water fills installed, and various upgrades to existing plants.