Lions celebrate 50 years in Redcliff
Posted on October 27, 2015 by 40 Mile Commentator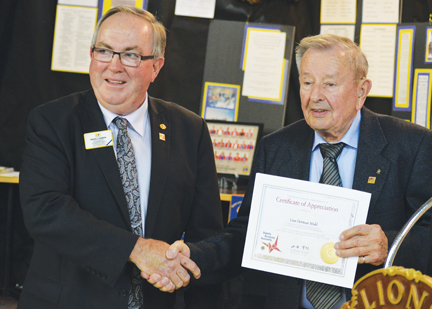 Founding charter member of the Redcliff Lions, Herman Wahl gets a certificate of recognition from Lions Club International president, Dr. Jitsuhiro Yamada.
By Tim Kalinowski
The Redcliff Lions celebrated 50 years as a chartered club at the Redcliff Legion on Friday night. The evening featured wonderful tributes for the enormous amount of work the Lions have done in Redcliff over the years to make the community a better place to live and grow for local families. The speeches were wonderful, the speakers entertaining and the sense of achievement palpable.
Special guests for the evening were Marvin Chambers, past international director for all Canadian Lions Clubs, Gordon Ziegler of the Richmound Lions, who was extremely entertaining as MC, Pam Cooper, past district representative, Herman Wahl, original charter member of the Redcliff Lions, newly elected MP Jim Hillyer and MLA Drew Barnes. Redcliff Lion Kim Doanis made the formal toast for the evening.
Gordon Ziegler kept the night flowing with well placed sense of humour and instilled a great sense of occasion. He started out the evening by explaining the close connection his Lions Club in Richmound has always felt with the Redcliff chapter.
"The Lions sometimes play this game when you ask each other when did you become a Lion? The answer isn't when you joined or when you inducted; it's when you got it. When you realized what you were really a part of; how important all of this was. One of my first significant Lion experiences was about 15 years ago, courtesy of the Redcliff Lions Club.
"A Lion by the name of Kim Doanis called me up and said: I understand you and your wife are hosting a  Lions Youth Exchange girl from Japan and there was also one staying in Burstall at the same time. We are holding a barbecue for the youth exchange kids in our area and we would be pleased if you join us. And we did.
"The kids bonded like this," said Ziegler holding up two fingers pinched together. "Those kids are going to be the solution; they are not going to be the problem in our society. When we bring young people like that together from all over the world, and they see what other people together can do, that means just so much. I am glad your Redcliff Lions Club has supported that."
Later on Kim Doanis stood up to give the formal toast.
"Honoured guests, fellow Lions, partners, and ladies and gentlemen," said Doanis, "for over 50 years now nearly 200 members of the community have been inducted as a Redcliff Lion. Altogether providing more than 1,300 years of service to Redcliff. Some serving longer than others, but all contributing to the betterment of Redcliff."
Among the numerous special recognitions given out on the evening was the club's 50 year service recognition certificate, a Melvin Jones Fellowship for Redcliff Lions president Ryan McNeil and a Lions International President's Certificate of Appreciation to Redcliff Lions Club founding member Herman Wahl for his 50 years of service to the community as a Lion.