Sweet season for sugar beet growers
Posted on October 27, 2015 by 40 Mile Commentator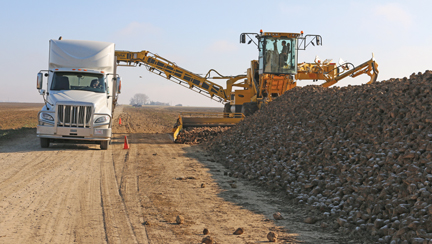 Pictured is one of many truckloads of sugar beets that was unloaded during this year's harvest.
By Jamie Rieger
The sugar beet harvest for the Burdett/Bow Island area wrapped up on Saturday and all indications point to another successful season for producers in the region.
"Overall, yields were really good. I have heard of some really big yields out there," said Bernie Lyczewski, president of Burdett/Bow Island Sugar Beet Growers.
A late start to seeding in the spring was more than made up by the hot weather during the summer
"Even with the late planting, it was a good crop this year. We had the extra heat units over the summer and I would say growing conditions were above average," he said.
Lyczewski said hail on his crop this summer put him back a couple of weeks, but he still had a decent crop to harvest.
"The crops were very good even with the late start, the yields were very good and the harvest went very well. We were just slowed down a bit by the weather," he said.