HALO angry after being stood down by STARS
Posted on November 3, 2015 by 40 Mile Commentator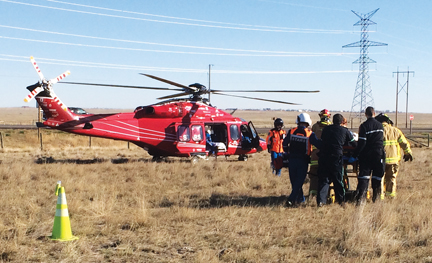 A man was evacuated by STARS heli-evac after a serious motor vehicle collision west of Suffield last Wednesday. The STARS heli-evac has caused controversy and has prompted an AHS internal investigation.
By Tim Kalinowski
Many in Cypress County are questioning the decision-making process that had locally-based helicopter rescue HALO stood down and a STARS helicopter sent in from Calgary in the wake of a Motor Vehicle Collision west of Suffield on Oct. 28. According to HALO board chairman Dale Thacker the HALO pilot in Medicine Hat received a call from the STARS managed Emergency Link Centre at 11:08 a.m. to do a med-evac at the accident site.
The HALO pilot told the ELC to contact him in two minutes as he wasn't sure if the chopper was in maintenance or not.
At 11:13 a.m. the pilot told the Alberta Health Services team lead in Medicine Hat the helicopter was good to go and started to crew up for the flight. No call came in from the ELC, but AHS and the ELC are linked so the pilot assumed the ELC was already aware they were getting set to take off.
At 11:24 a.m. HALO reported it was ready to go, and were awaiting final confirmation from the ELC dispatch centre.
At 11:28 a.m. the call from the ELC came in telling HALO to stand down as they had dispatched a STARS helicopter from Calgary to the accident scene. It would take another hour and a half for them to arrive while HALO could have been there in 15 minutes. The seriously injured male patient was forced to wait in the ambulance for that hour and a half and could have suffered serious medical consequences as a result.
Thacker said last Thursday his HALO crew was naturally upset, and that HALO had asked AHS for an inquiry into why our local med-evac organization was sidelined in this operation.
"Ultimately we can't go without (STARS ELC) dispatch's say-so," said Thacker. "AHS is directly linked to STARS in Calgary… When we heard this morning that STARS said the HALO helicopter was down for maintenance, and that's why they sent their helicopter from Calgary, I used the 'bulls**t" word.'"
Thacker said he hoped a simple miscommunication was the cause of this false assessment, but he has also noticed a distressing pattern since AHS contracted out HALO's dispatch service to the STARS managed ELC in Calgary.
"We have been put on standby, since January 1 of this year, 80 times. We have only flown 30 of those flights, and the government is saying we don't have enough flights to warrant having our own helicopter rescue down here. Had we flown 80 times we would be cheaper on a per call basis than STARS is. It is a chicken and egg thing. If they don't dispatch us we can't fly."
Thacker hopes politics isn't at the heart of all this, from either STARS or the provincial government, but he wants some answers.
"We have been unsuccessful in getting government funding for the helicopter. The government keeps saying to have a dedicated helicopter isn't warranted in this area when, in fact, we can probably demonstrate that it is. In this case our helicopter was absolutely ready to go. The fact of the matter is AHS knew, and when AHS knows something the Link Centre knows it… Our pilot tells me that in the past when there is some uncertainty about the helicopter the ELC instantly calls back. In this case they didn't call back."
Helicopters dispatched to aid EMS
Redcliff and Cypress County emergency responders attended to two serious incidents last week.
On October 28, 2015 at approximately 11:00 a.m. Redcliff RCMP and the Redcliff Integrated Traffic Unit (ITU) responded to a two vehicle motor vehicle collision on the Trans-Canada Highway at Range Road 101, five kilometers west of the Village of Suffield. An eastbound pickup truck struck a slowing eastbound tractor trailer at highway speed.
The 21-year old driver of the pickup truck was airlifted to hospital via STARS air ambulance in serious but stable condition, while the passenger of the pickup was transported to hospital in Medicine Hat by road.
Alcohol and drugs do not appear to be factors in the collision but evidence at the scene indicates that seatbelts were not properly utilized.
Anyone who witnessed the collision is encouraged to contact Redcliff RCMP at 403-548-2288.
A second incident took place when a female hiker was reported lost in Cypress Hills Park Alberta on Oct. 29.
At approximately 12:00 p.m. last Thursday Redcliff RCMP received a report that a 40 year-old female from Calgary was lost on foot in the park near the Village of Elkwater.
Redcliff RCMP, the Redcliff Integrated Traffic Unit, the South Eastern Alberta Search and Rescue, Alberta Parks conservation officers, HALO air ambulance and the Cypress County Fire Service entered into a collaborative search and rescue operation. At approximately 3:30 p.m. the female was located near Horseshoe Canyon in stable condition.
The woman had spent the previous night in the park without shoes, eyeglasses, or proper seasonal clothing. She was taken to Medicine Hat Regional Hospital by EMS and treated for possible hypothermia and frostbite to her feet.
Temperatures overnight in the park had reached a low of minus three degrees Celsius.
Nothing has officially been confirmed as to how the woman got herself into those circumstances in the first place, but officials do say she acted on her own initiative.