Proud to guard tomb of Unknown Soldier
Posted on November 10, 2015 by 40 Mile Commentator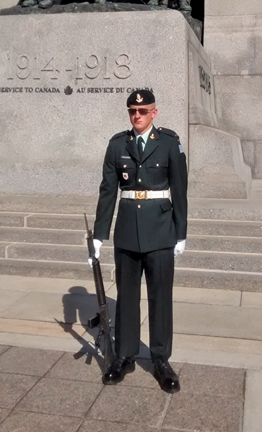 Bow Island's Tim Denhollander was honoured to have served sentry duty at the Tomb of the Unknown Soldier in August.
By Jamie Rieger
It is an honour for any soldier to serve sentry duty at the Tomb of the Unknown Soldier in Ottawa and one young soldier from Bow Island had the opportunity to do just that this past August.
Tim Denhollander, a reservist with South Alberta Light Horse, a Reserve armoured reconnaissance regiment Medicine Hat and Edmonton, spent four weeks in Ottawa during the summer participating in the National Sentry program, standing guard at the Tomb of the Unknown Soldier.
Denhollander, who has been a member of SALH since Jan. 28, 2014, had just finished his courses when he was asked to go to Ottawa.
"I finished my course on Aug. 4 and on Aug. 10, I was on a plane heading for Ottawa," he said.
Once there, Denhollander, along with other soldiers posted to sentry duty at the Tomb of the Unknown Soldier, had to take drill training, learning the movements, how to walk the beat and stay synchronized.
Then, it was three weeks of actual sentry tasking. With temperatures pushing 40C in the hot August sun, Denhollander said it was rather warm and hard to remain still.
"We couldn't really move except during rotation and it got pretty warm, but there were 20 of us working three days on, three off," said Denhollander.
During Denhollander's three week sentry, 20 soldiers would go through the rotation. Ten soldiers would rotate through sentry over three days, then the remaining 10 for three days and do this over the course of three weeks. While Denhollander's sentry partner comes from Edmonton, there was representation from across the country while he was there, including the BC Dragoons, Fort Garry Horse, Lake Superior Scottish regiment, and Kings Own Calgary regiment.
"I had never been to Ottawa before; it was an honour to be there. Seeing the Tomb was pretty significant for me," he said.
Denhollander decided to join SALH when he was looking for a job that would allow him to stay active.
"The job I had was repetitive and wanted something where I could be doing something different every day and stay active," he said.
He has been a member of SALH since Jan. 28, 2014, completed his BMQ (basic military qualification) last summer, and said, basic training took a little adjusting.
"Basic training was pretty stressful. We were busy from 5:30 a.m. to 11:00 p.m. We took PT first, then took classes, had weapons drills, cleaned our weapons, and other things that needed to be done," he said, adding that fall/winter exercises followed, as well as Developmental Period (DP) training. During the DP training, which ran for six weeks, Denhollander learned about armoured driving and gunning, as well as taking trades courses.
It was four weeks into this course that he was asked if he would participate in Sentry tasking at the Tomb of the Unknown Soldier.
Denhollander said he plans on going to school in Kamloops to take the Adventure Guide program and hopes to get attached to the Rocky Mountain Rangers while there.