Open house for proposed solar projects
Posted on December 1, 2015 by 40 Mile Commentator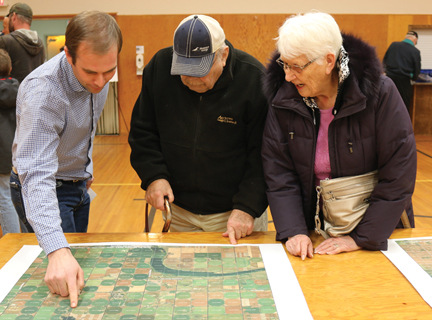 BluEarth Renewables representative, Jared Sproule shows county residents, Henry and Verna Willms the location on a map of one of the proposed projects.
By Jamie Rieger
County of Forty Mile residents with concerns and questions about two proposed solar projects had the opportunity to learn more about the endeavors being proposed by BluEarth Renewables Inc. at an open house in Burdett last week.
Tom Bird, a BluEarth director said there were three reasons the alternative energy company selected the locations it did for the projects.
"The basic criteria for the locations are that it needed to be sunny enough, have a good solar resource. Two, they had to be in areas that did not have environmental constraints, and three, we have to build them near where there is electrical connection that will allow for the capacity," said Bird.
County of Forty Mile councilor, Chantel Timmons, who would be seeing one of the projects constructed in her division, said her constituents have a number of concerns about the project.
"Some of the negatives I have been hearing are about if it will be aesthetically pleasing, the traffic (during construction), if the solar panels could withstand an Alberta hailstorm, and if there will be a decrease in land value," said Timmons. "On the plus side, the tax revenue would be good for the county. It would be nice to see one of these projects."
Reeve Bryne Lengyel also attended the open house.
"There are some concerns about what would happen if there was another flood event and some people are concerned about traffic," said Lengyel, adding that the county is open to hearing about any concerns ratepayers may have.