Kids Christmas celebration in Irvine fun for all
Posted on December 8, 2015 by Tim Kalinowski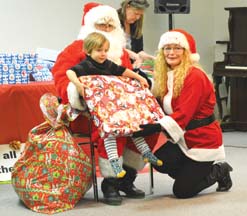 Photo by Tim Kalinowski Irvine Mom Group hosted its annual kids Christmas party at the Sport Complex in Irvine on Dec. 6. Pictured: Young Elizabeth Stuber receives a gift from Santa Claus and his number one elf Candida Spackman
The Irvine Mom Group hosted about 35 local kids for their annual Christmas event on Sunday afternoon at the Irvine Sport Complex. While the numbers were down this year from previous years, those kids who came out were treated to a great afternoon of fun, music and Christmas presents.
Local entertainer Bob Donaldson put on an interesting performance which ran the gamut from traditional kids Christmas songs like Frosty the Snowman all the way up to more modern, irreverent fare like "Grandma got run over by a reindeer."
Donaldson handed out wood blocks, bells and shakers and had the kids come up on stage to accompany him on his guitar. At the end of his performance Donaldson sang in Santa Claus with teh song "Santa Claus is coming to town." Santa and his chief elf Candida Spackman then took centre stage and handed out presents for each of the kids on hand and gave parents the option of having a Christmas Santa picture taken at the same time.
Following the gift hand out, and the departure of Santa Claus, all settled down to a nice light buffet which included desserts, veggies and cold cuts.
This was the last ever Christmas event which will be organized by the Irvine Mom Group. Group member Marika Pender said it was great to have been able to provide ten years of Christmas happiness to local kids.
"It went really well today," said Pender. "It has absolutely been a rewarding experience for everyone in the group. I think the kids have really enjoyed this opportunity to meet Santa, get a little something from Santa, and get together as a community. It shows a really nice community spirit at Christmas time."
Let's hope someone takes up the banner of the Irvine Mom Group in the community carries on this great Christmas tradition next year.