Many highlights in 2015 for SE Alberta
Posted on December 29, 2015 by 40 Mile Commentator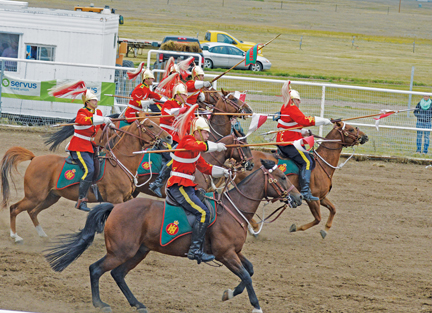 Photo by Tim Kalinowski - 2015 will be remembered as a year of amazing changes all over the world. Pictured: Lord Strathcona's Horse opened the 36th annual Ralston Rodeo on Aug. 15.
By Tim Kalinowski/Jamie Rieger
JANUARY
The top news story for the start of 2015 in the Cypress Courier was the price of fuel at the pumps, with petroleum analyst Dan McTeague predicting that the bottom of the barrel had not yet been seen when oil prices dropped to $50/barrel.
Prairie Rose School Division announced the hiring of secretary/treasurer Ryan Boser. Boser replaced Pat Cox, who retired.
A Bowell area family lost their home and garage to a fire on Thurs., Jan. 8. The family, with two young sons, lost all of their belongings and the Redcliff Hylton launched a campaign to collect gift cards to help the family.
A man who had been shot by a Redcliff RCMP constable during an Oct. 6, 2014 incident at the detachment received probation for his actions. Bernard Norman, entered a guilty plea for possession of a dangerous weapon and received an 18-month probation sentence.
I.F. Cox School in Redcliff received $65,000-grant to assist with improving the school's outdoor learning space, it was announced at the parent council meeting on Jan. 22. Principal Melissa Gogolinski said the money would be used to improve the pathways, making them more accessible for those with strollers and wheelchairs. Plans were also being made for a covered gazebo, musical area, and bird and growing gardens.
More than 20,000 hunters applied for 500 available elk tags for the February hunt, the sixth of the season for the held hunt reduction program at CFB Suffield.
FEBRUARY
Cypress/Medicine Hat MLA Drew Barnes addressed a wide range of current topics when he held a talk at the Redcliff Library. Barnes discussed government spending the emergency protection order on the Greater Sage grouse, and a host of other topics.
HALO collected signatures for a petition that was to get sent to the provincial government for funding for the medical helicopter service for southeast Alberta. Executive director, Stuart Riley was hoping to garner 10,000 signatures.
Seven Persons School received a $100,000 grant from Community Facility Enhancement program for the building of their new playground.
Cypress County emergency services chief, Dennis Mann and agricultural fieldman, Jason Storch addressed county council at their Feb. 17 meeting on the importance of their municipal emergency management plan.
MARCH
Drew Barnes, MLA for the Cypress/Medicine Hat constituency had a room filled with supporters at Paradise Valley Clubhouse in Medicine Hat when he announced he would be seeking the leadership of the Wildrose Party.
The Town of Redcliff announced they would amend their remuneration policy for its volunteer fire department.
Redcliff , after several years without a family physician in town, would be getting a new doctor when Dr. Helgaard van der Merwe announced he would be moving his practice from Medicine Hat, saying a lot of his patients reside in Redcliff and having his practice there would be more convenient for them.
The Medicine Hat District Foodgrains project had its most successful year to date, Charlie Redpath announced at their annual banquet, held at Chinook Village in Medicine Hat in March.
Former Cypress County reeve, Bob Olson announced he would be running for the Progressive Conservative party.
Redcliff Town council announced it would be increase taxes to help cover the Town's higher insurance premiums. At their March 9 council meeting, it was indicated that they had $126,000 budgeted for general insurance. The invoice for insurance, however, came in at just under $146,000.
The Medicine Hat College Entrepreneur Development Centre received won the College and Institutes Canada Entrepreneurship award in the Student entrepreneur category at a ceremony held in Montreal.
Bob Olson, PC candidate for the Cypress-Medicine constituency, won the nomination race on March 28 and was looking forward to the upcoming provincial election.
Cypress County donated $35,000 to the Medicine Hat and District Food Bank Association to go towards the purchase of a refrigeration truck.
Brad Volkman, chief deputy superintendent for Prairie Rose School Division announced he would be stepping down from the position to take the role of Superintendent with the Wild Rose School Division at Rocky Mountain House.
Medicine Hat Public Library had a full theater on March 27 as local neurologist and pain consultant, Emad Salih gave a presentation on the state of Islam and disjointed association to extreme acts of violence.
APRIL
Human activity is believed to be the cause of a grass fire that burned 600 acres near Suffield, according to Cypress County fire chief Dennis Mann. Winds were blowing at 50-70 km/hr at the time of the fire.
Long-time Redcliff resident and volunteer Fred Hauck was named the community's Citizen of the Year for his dedication and efforts for various organizations in town.
Seven Person volunteer firefighters, along with the Medicine Hat Fire department responded to a wind-driven fire along Range Road 65 on Apr. 11. Local farmers, ranchers, and a crew from League Pipeline also assisted in extinguishing the blaze.
Cypress-Medicine Hat candidates weighed in on current issues in the Apr. 21 issue of the Cypress Courier.
Prairie Rose School Division discussed their three-year capital plan at their Apr. 14 trustee meeting. According to secretary-treasurer, Ryan Boser, Eagle Butte High School improvements remained a top priority, with modernization costs estimated at $6.2 million. However, with the announcement of the provincial budget, PRSD trustees said they were concerned about how any cutbacks would impact students, staff, and communities.
MAY
Property taxes went up by three per cent in Redcliff to start off the summer months.
Taxes also increased for farmers and business owners in Cypress County.
The Alberta Progressive Conservative Party had an historic collapse in the May 5 provincial election ushering in an NDP majority led by Premier Rachel Notley, stunning many in Cypress County. NDP candidate Bob Wanner was elected in Medicine Hat defeating P.C. incumbent Blake Pedersen. Wildrose candidate Drew Barnes was easily re-elected in Cypress-Medicine Hat.
Cypress County honoured its Citizens of the Year Gary and Elaine Lehr of Irvine at a banquet on May 6.
The Cypress Courier  ran a feature story in the lead up to the 100 year anniversary of the devastating Redcliff tornado of 1915.
Kevin Miner resigned suddenly as Cypress County CAO after only one year of service.
JUNE
Redcliff business community loses one of it brightest lights in a tragic car accident on June 4. Lyle Aleman, 44, general manager of Red Hat Co-operative, died in a head-on collision at Gershaw Drive SW in Medicine Hat.
Deputy CAO Doug Henderson was named as acting CAO at a Cypress County council meeting on June 2.
Redcliff Town Council found itself the subject of some local controversy when Coun. Larry Leipert took on his fellow councillors in a brawl over a proposed new litigants bylaw which he called "undemocratic." The bill passed anyway, but fostered good debate in the community.
A major summer storm walloped many communities in Cypress County on June 12 causing widespread damage. Seven Persons was especially hard hit.
Seven Persons track phenom Sage Watson set the best 400 metre hurdle time by a Canadian woman in 2015 at the NCAA track championships in Eugene, Oregon on June 13.
A million dollar donation was announced from the Drowning Ford Grazing Association toward the new Schuler School on June 15.
Redcliff Days had a fantastic turnout June 19-21.
A successful Kaleidoscope of the Arts fundraiser was held at 12-34 Cafe & Pub in Elkwater on June 27.
JULY
Successful Canada Day celebrations were held in Redcliff and Suffield.
Ali Mullin became the new Medicine Hat Exhibition & Stampede Queen on July 4. Makayla Chambers won Stampede Princess.
Cypress County councillors take county staff to task over a $150,000 boondoggle to do with the purchase of a DIAMOND accounting software system at a public meeting on July 7.
Cypress County athletes did extremely well at the Southern Alberta Summer Games in Claresholm July 8-11.
The 128th annual Medicine Hat Exhibition and Stampede enjoyed record numbers.
Family Fun and Flight Day at the Medicine Hat Regional Airport features the Snowbirds and draws huge crowds on July 26.
Cypress County declared a state of agricultural disaster following two months of severe drought on July 21.
New CFB Suffield base commander Lt. Col. John Scott is sworn at a change of command ceremony on July 30.
AUGUST
Seven coal cars and one CP Rail engine derailed in spectacular fashion just outside of Seven Persons on Aug. 9.
Ralston held its 36th annual rodeo on Aug. 15. The high octane event featured Lord Strathcona's Horse Musical Ride out of Edmonton and a fabulous bullriding competition despite cold, miserable and wet weather.
Redcliff Town council found itself embroiled in a major debate over its breed-specific dog control bylaw, which singled out Pitbulls for specific sanctions, with advocacy group "Justice for Bullies" and local Pitbull owners at the August 17 public meeting. Council would end up changing its bylaw to eliminate breed-specific wording as a result.
Wildrose leader Brian Jean visited Medicine Hat in his first visit to the region as the newly elected party leader Aug. 20.
A nasty rollover in the Parramatta Valley on Range Road 70 saw a water tanker truck driver seriously injured on Aug. 25
Newly appointed Alberta Agriculture and Forestry Minister Oneil Carlier tours drought stricken areas in Cypress County and 40 Mile.
A dangerous bale fire burned a wide swath north of Hwy. 523 between Range Roads 65 and 70 threatening about a dozen farms on the last day of August.
SEPTEMBER
Acting CAO Doug Henderson officially appointed as CAO of Cypress County on Sept. 1.
New solar array unveiled in Dunmore at LMT Enterprises is the largest in southeast Alberta at the time.
In what turned out to be a hoax, a report of a downed airplane on Sept. 12 somewhere near Medicine Hat had locals searching the fields for traces of wreckage.
Prostate Cancer Awareness month proclaimed by Mayor Ernie Reimer in Redcliff on Sept. 15.
Seven Persons 4-H Club celebrates 50 years with a special celebration at Seven Persons Community Hall on Sept. 26.
A spirited all candidates debate at Medicine Hat College on Sept. 29 sets the tone for the October federal election.
A local 22 year-old man dies in a tragic motor vehicle collision on Township Rd. 120 south of Medicine Hat.
OCTOBER
Jeff Gaulin, Vice President of Communications with the Canadian Association of Petroleum Producers, speaks to local reporters on Oct. 5 about the miserable state of the Alberta oil and gas industry in 2015.
Private dust control fee increase stirs vigourous debate at Cypress County council on Oct. 6.
Medicine Hat-Cardston-Warner Liberals celebrate in Medicine Hat with defeated local candidate Glen Allan after Liberal Party sweeps federal election nationally on Oct. 19.
Report released by Alberta government shows greenhouses in Alberta facing challenging economic times. Equally difficult times in Redcliff greenhouse community.
Cypress County Reeve Richard Oster cuts the ribbon at the new Eagleridge Pump Station in Dunmore on Oct. 23 to officially celebrate the completion of the $16 million regional waterline between Dunmore, Irvine and Walsh.
Ward 7 Seven Persons North/ Desert Blume councillor Richard Oster is voted out as Reeve by his fellow councillors on Oct. 23. Oster is replaced by Ward 2 Irvine/ Walsh councillor Darcy Geigle.
Lions Club celebrates 50 years in Redcliff at the Redcliff Legion Hall banquet room.
Dispute between HALO and STARS Air Ambulance over accident response near Suffield on Oct. 28.
NOVEMBER
Canadian Anglican Military Ordinary and Bishop of the Anglican Diocese of Ottawa Peter Coffin visits Ralston to bless the community cenotaph and hand out community service awards on Nov. 1.
HALO Air Ambulance held a record breaking fundraiser at the Seven Persons Community Hall on Nov. 6. Nearly $90,000 was raised.
Powerful and well-attended Remembrance Day Ceremonies held at Parkside School in Redcliff and at Ralston community theatre. Suffield Community Association hosts interesting Remembrance Day reception of its own.
Two children struck by car on a Redcliff crosswalk receive only minor injuries.
Syrian refugee debate comes to southeast Alberta at a Medicine Hat Community Housing Society event on the heels of the deadly Paris attacks of Nov. 13. Former local refugee Abdi Ibrahim appeals for understanding and tells his own story of encountering racism in Medicine Hat.
Fees for service going up in all areas in Redcliff to help combat recession.
DECEMBER
Cypress County announces surplus budget for 2016 at Dec. 1 council meeting.
Bill 6 debate dominates headlines of December 8 paper after Ministers Hoffman and Sigurdson host town hall at the Cypress Centre Pavilion on Dec. 4. About 900 farmers came out to voice their opposition to the  "Enhanced Protection for Farm and Ranch Workers Act." Louise Niwa from Acadia Valley brought along her Holstein cow painted with anti-Bill 6 graffiti.
Schuler  held a groundbreaking for their new school on Dec. 15.
Cypress County council had to draw on its 2015 surplus to balance its 2016 budget to the tune of $404,000 on Dec. 15.
Redcliff council raised taxes three per cent and increased fees to water, sewer and garbage collection to balance its 2016 budget Dec. 14.