Elkwater slowly gearing up for Winter Games
Posted on January 5, 2016 by 40 Mile Commentator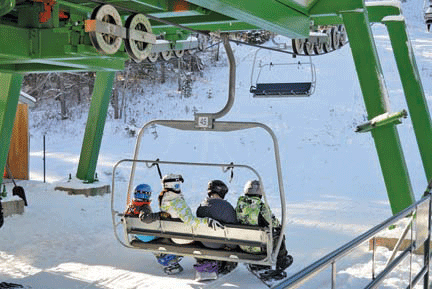 PHOTO BY TIM KALINOWSKI - The Alberta Winter Games will have 2,800 athletes, coaches, and officials arriving in SE Alberta in February.
By Tim Kalinowski
Hidden Valley Ski Resort will be hosting six events on its slopes during the Alberta Winter Games: Alpine, Giant Slalom, and Slalom on their Hidden Valley run, Moguls on their Suicide run and Border Cross and Freestyle in their training park. Brandi Stroh, Visitor Experience and Marketing director at Hidden Valley Ski Resort, says while the Games pose a huge challenge for her crews she is confident they will be able to meet that challenge.
"We just have to make sure we're prepared," says Stroh. "We are fully stocked and we are fully staffed and we've just got to be on our game. We have had the Winter Games here in the past and we did what we were asked to do. I think this is something we can handle."
Stroh admits the next month will have its worries on the weather side of things, especially considering the  already late start to the regular season.
"Right now the challenges that are posed to us are simply weather—if the weather allows us to make snow and get it out on the slopes. We need to have the proper amount of snow in order for the Games to be successful, and to have them get off the ground. That's a big stresser for us at this point in time. Our crews have been going as much as possible on this already; 24/7 when the weather has allowed us to. And they will continue to do so until we have the proper amount of snow in place," says Stroh.
Hidden Valley's Paul Carolan is in charge of risk management and snow patrol for the Games. He says the biggest challenge he foresees, outside of having adequate snow, is crowd control during the event itself. There are over 200 competitors expected on Hidden Valley's slopes, not counting coaches, parents and spectators. This on top of the regular public who will also be skiing. This may balloon the numbers on site during the Winter Games well beyond their usual weekend crowd.
"The spectators do add a different dynamic for us, and making sure we can get people to the event safely and get them off safely," confirms Carolan. "We are developing a plan to get those spectators in a place where they can see what's going on and make sure they are safe and comfortable doing so."
Carolan says his snow patrol first responders will be supplemented with about 25 volunteers from the Canadian Ski Patrol to ensure adequate coverage.
"There's going to be a lot of people on site and there will be a lot of management for us. But I think we have a strong plan in place that will make sure everything goes pretty smoothly."
Stroh says due to the late start to the regular season it hasn't really sunk in yet what hosting the Winter Games means for staff members, but she expects excitement and anticipation will be building throughout the month of January.
"We know the Winter Games have gone off well and successfully here in the past. We have a record of success at this and we want to be able to meet that same standard again," says Stroh.