New cop enjoying first months at Bow Island detachment
Posted on January 5, 2016 by 40 Mile Commentator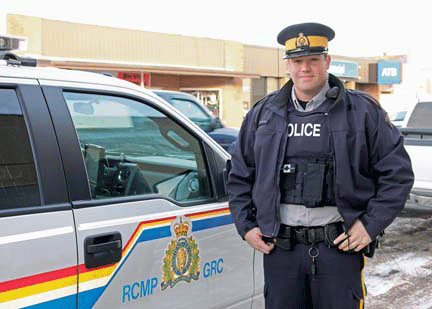 PHOTO BY JAMIE RIEGER - Mark Vandyke has been with the Bow Island RCMP since October and said he is enjoying working at a rural detachment.
By Jamie Rieger
It has been just a few short months since Mark Vandyke graduated from RCMP Depot in Regina, and shortly after that he came to Bow Island to begin his first posting as an RCMP officer.
"When you sign up, you could go anywhere in Canada," said Vandyke, who is familiarizing himself with the people and with the geographical area of the jurisdiction.
"I have been meeting lots of people, have been going to a few hockey games, and am still learning about the whole region," he said. "So far, it has been pretty awesome."
The Ottawa native said he has always wanted to be an RCMP officer and hopes to try to get involved with the local schools while he is with the Bow Island/Foremost detachment.
"I like it here. it is different because everybody knows everybody," he said.
Growing up, Vandyke played some competitive golf, as well as lacrosse, and plays hockey. His favourite NHL team is the Montreal Canadiens.