Serack family receives a bit of good news
Posted on January 5, 2016 by 40 Mile Commentator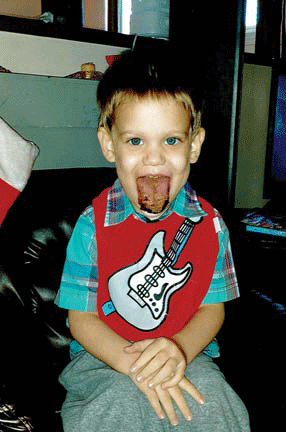 PHOTO SUMBITTED - Two-year old Creedon Serack and his family received a bit of good news right before Christmas when they learned that a tumor removed from the young boy's tongue in mid-December was not malignant.
By Jamie Rieger
The family of Creedon Serack received some uplifting news just before Christmas when they learned that a tumor growing on the two-year old's tongue was not malignant.
The tumor, which had been removed in mid-December was the most recent procedure for little Creedon, whose ongoing treatments includes injection therapy.
"This is not a curable disease and he will need therapy his whole life," said mom, Kendall Drader of Creedon who was diagnosed with lymphangioma (a solid mass on his mouth and posterior area of his tongue) at one day old and has to go to Alberta Children's Hospital in Calgary for ongoing treatments, part of which includes injection therapy.
"He has to have this before he turns eight because it does not work well after that," said Drader, adding that the tongue was the most painful and invasive for Creedon.
Drader said the doctors first found tumors on Creedon's neck on an ultrasound.
"When he was born, he had to stay in the hospital for two months and he was on oxygen for six months," she said, adding that there is a one in five million chance of getting lymphangioma.
The lymphatic malformation on neck (prenatal diagnosis), along with tongue swelling put Creedon at a relatively high risk of having his airway obstructed.
At six days old, he was found to also have a partial obstruction above his vocal cords.
There have been many trips to Calgary over the past two years for the Serack family, who take Creedon every four months for treatment.
Creedon had his last MRI Oct. 22, which found the vascularity of the solid mass on his tongue was indicating malignancy.
Creedon had this mass removed in mid-December and just days before Christmas, the family learned the tumor was not malignant, much to the relief of mom, Kendall, and dad, Mike.
At home, Kendall said Creedon is strong and plays, but they try to keep him away from people who are sick and he is given Advil when needed.
Because of the ongoing trips to Calgary for treatment, approximately one month ago, a family friend set up an account on GoFundMe, a crowdfunding and fundraising website. As of Jan. 30, Cash for Creedon had raised more than $5,700 to help the family with their ongoing trips to Calgary for treatment.