Skiers flock to Elkwater during holiday week
Posted on January 5, 2016 by 40 Mile Commentator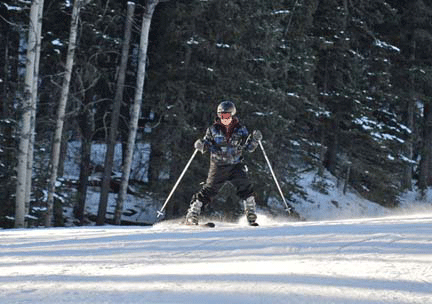 PHOTO BY TIM KALINOWSKI - Hidden Valley ski resort opened to the public on Dec. 26, about one month later than usual.
By Tim Kalinowski
Elkwater's Hidden Valley Ski Resort finally got enough cooperation from Mother Nature to open to the public over the Christmas holidays. Starting on Dec. 26, the ski hill was packed for much of its first week as families from all over southeast Alberta and southwest Saskatchewan made the trek down Hwy. 41 into the stately pine, spruce and aspen hills of one this region's most beautiful natural preserves.
Brandi Stroh, director of Visitor Experience and Marketing at Hidden Valley Ski Resort, has worked the slopes of Elkwater for the past 18 seasons. She takes pride in the ongoing popularity of the ski resort, and in her staff's determination to live up to the expectations of a public keen on winter sport and shared family time.
"I consider it a winter playground right in our own backyard for Medicine Hat, southwest Saskatchewan, and area," says Stroh. "We really pride ourself on our customer service. That's really been key here. This is such a great facility for beginners and has such a great family atmosphere. And our terrain is nicely varied between the green and black runs. A place like Castle, which is a great mountain to ski at, is a little too advanced if you are beginner. So a lot of people come here to get the kids going at some of our camps and clubs."
Stroh also takes pride in the fact the 2,000 visitors, on average, per week which make their way to the resort enhances the tourism profile for the entire southeast Alberta region during the typically slower winter months in the park.
"I think our impact is great on the tourism side of things for this area," explains Stroh. "Other than skiing winter activities are fairly limited. So Hidden Valley is a huge draw. We also do some great ski and hotel packages with Elkwater and Medicine Hat, and we do see a good return on that. That generates quite a bit of revenue for tourism in this region. I can tell you the community of Elkwater wants to see us succeed for our winter months because it also sees them succeed. We have a great working relationship with both the community itself and the government (through the park)."
Stroh credits her dedicated staff for making the roughly 18 week ski season at Hidden Valley successful year after year.
"We have got a lot of returning staff this year, as we always do. It's a great job for students, and we rely on our students for the weekends, for sure. And it's what they love doing. Our instructors love being out on the snow, and for our other staff they like the environment. It's a very friendly place, and we try to keep it as much of a family setting as possible for them. Yes, it's a short season but it's a good season," says Stroh.