Remembering local boxing great Bill Page
Posted on January 12, 2016 by 40 Mile Commentator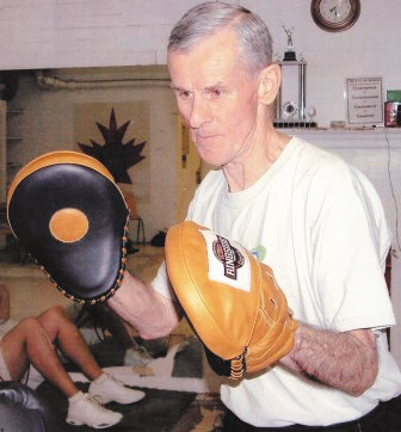 FILE PHOTO - Longtime Medicine Hat Boxing Club coach and well-known rodeo bull rope maker, Bill Page passed away on Jan. 2. Plans are being made to honour Page and help out his family at the Ev Nieman Memorial Boxing tournament being held Jan. 23-24.
By Tim Kalinowski
The Page family has a long history in the Redcliff area, and a long history of well known local characters in their family tree. Bill Page, expert bull-rope maker and boxing coach, was no exception. Bill passed away on January 2 at age 73 after battling illness for the past few months. Long-time friend and fellow Medicine Hat Boxing Club coach Kerry Fahlman said Bill's shoes will not be easily filled.
"Boxing has always been kind of a poor man's sport. A lot of kids came into boxing, especially in the 1970s and 1980s, because it was a cheap sport to get into. There were a few kids that did come from better lives, but the majority of the kids back in those days were underprivileged kids. Every kid that walked through that door, Bill made them feel like a champion. He was a positive guy who built kids up. He turned a lot of kids' lives around who were maybe heading off in the wrong direction in life. A lot of our boxers ended up successful in life; and maybe would not have if not for Bill Page," said an emotional Fahlman in an interview last week.
Bill was one of the founders and first coaches at the Medicine Hat Boxing Club in 1975 when it opened. He continued in that role until last year when he grew too ill to continue. He was originally brought into the Medicine Hat Boxing Club by local boxing legend Ev Nieman, whose family had been friends with the Pages for years.
Bill had some success as a boxer early in life, but it was as a coach of the sport where he truly shone.
"One of his main mottos would have been stick to the basics," said Fahlman. "Even with some our top competitors we still take them back to the start all the time. So using that left jab, if you were a right handed guy. That was the most important point to Bill, to make sure the fighters had all their tools working for them. Defence; keep your hands up and stick to the basics. This is a huge loss to all of Boxing Alberta, not just our community. He was very well respected in the boxing world and everybody knew Bill Page."
Many in the rodeo world are also mourning Page. He was one of the most sought after and respected makers of bull-ropes for professional bullriders in the sport. According to Fahlman, Bill was probably born a century too late.
"He was a country boy at heart. He wore a cowboy hat and would be behind the chutes at the rodeo bullsh*tting with the boys. He was salt of the earth. He was the kind of guy that loved being out in nature and was excited about birds and animals, and walking around and finding old arrowheads, buffalo horns— he just loved that kind of stuff. He should have been born a hundred years earlier. I will miss him a lot down at the club, and I will miss him as a friend."
This year's Ev Nieman Memorial Boxing Tournament on Jan. 23-24 will pay special tribute to Bill Page. A live charity auction event will also be held on Jan. 23  with proceeds going to support the Page family. Bill leaves behind his beloved wife Rosemary, whom has also long been a fixture at Boxing Alberta.