Complying with Bill 6 not complicated, says safety consultant
Posted on January 19, 2016 by 40 Mile Commentator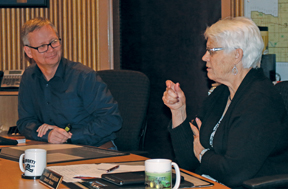 Jonathan Hamon, an independent safety consultant, presented County of Forty Mile council with an overview of the OHS, WCB, and Employment Standards regulations that must be complied with under the rules of Bill 6.
By Jamie Rieger
More questions than answers still remain over Bill 6, the Enhanced Protection for Farm and Ranch Workers Act, which passed third reading in Legislature last month.
Jonathan Hamon, Hamon Safety Consulting provided County of Forty Mile council at their Jan. 13 meeting with an overview of the Bill and what is being required of farmers, ranchers, and greenhouse operators under the new law.
The presentation, "Alberta Farms, Ranches, and Bill 6", focused heavily on the OHS Act.
OHS Act
Under Section 2 of the OHS Act, an employer includes those who are self-employed, a person designated by the employer as an employer representative, and directors or officers of a corporation, so even if the farmer is the sole proprietor of his operation, these rules apply to him.
"This Section now includes farms, ranches, feedlots, beekeepers, the list goes on," said Hamon.
Hamon indicated to council that the OHS Code invloves 41 parts that cover everything from confined spaces, hazard assessment, emergency response plans, and first aid, among others.
Hamon warned that the Due Diligence clause in the OHS Act could cause problems if the rules are not complied with.
"Be careful with this because you have to prove you have done everything that is reasonably practical. The inspector only has to prove that you could have done more," said Hamon. "Safety policies must be written and enforced. They have to be taught to employees and a written record must be kept."
"For workers who can not read or write English, you can explain the procedures to them and they can sign with an "X". You can have a safety meeting with all employees at once"
Hazard assessments must also be completed, but Hamon said it is not as complex as it may initially seem.
"Each worksite must be assessed and every existing and potential hazard must be identified before work begins. The hazard assessment would be done at the start of each season, not every time you get into the combine. Most of you are probably already doing this," he said.
Hazard assessments must be done for pieces of equipment or groups of similar equipment and must be done for all tasks in the workplace.
"The employer must prepare a report of results of the hazard assessments and the methods used to control or eliminate hazards," he said.
WCB Act
Hamon touched briefly on regulations of the WCB Act, stressing that while WCB does protect employers against lawsuits, does not protect against Criminal Code (Bill C45) or OHS fines.
Most rates for farmers are approximately $300, according to Hamon.
Alberta Employment Standard Act
Failure to comply with the new rules could lead to serious problems under the Alberta Empplolyment Standard Act, according to Hamon.
"This is where you have a real complaint, particularly when it comes to minimum employment practices. Because of Bill C45 and Due Diligence (under the OHS Act), an employer can limit liability and the chances of being charged under the Criminal Code by implementing an effective workplace health and safety program," he said.
Hamon said it is also important to note that if an inspector should visit the farming or ranching operation, it is up to the employer to ensure the laws are being adhered to.
"The inspector is not an expert in your business, he is an expert in the law. The ultimate responsibility lies with the employer," he said.