Musical murder mystery brings out crowd in Irvine
Posted on January 26, 2016 by 40 Mile Commentator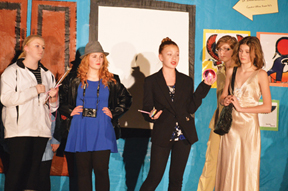 Irvine students put on an entertaining dinner theatre performance on Friday evening. It was a house full for "Oh, Horrors It's Murder!" Pictured: Alison Ferguson ((holding glass ball) playing police detective Lt. Dani Morrow makes her accusations in the finale. Also pictured, from left: Madisson Dyck, Victoria Philbert, Sierra Gold, and Carmen Traichel.
By Tim Kalinowski
Irvine School hosted a ghoulish, musical, murder mystery on Friday night. "Oh, Horrors It's Murder!" was put on by an all female student cast who delighted the dinner theatre audience (a full house) with interesting musical set pieces featuring group dance numbers and quirky drama. While the Courier can't get into the details of the plot too deeply, we can say it involved archeology, ancient Egyptian curses, mummies, precious jewels, female rivalries, annoying attorneys, nosy reporters, ancient and vindictive animal-headed goddesses and, of course, murder most foul.
Sierra Gold deserves special mention among the dedicated troupe of actors for playing a crucial double role. Madison Squire and Azlin Ferguson both had a huge number of lines to remember to keep the plot moving. And Carmen Traichel and Jessica Balfour were absolutely convincing in their character's jealousy and hatred toward one another, adding a nice savage edge to the proceedings.
The whole cast deserves kudos for bringing the entire production to stage in only 12 weeks. The behind the scenes cast, including director Ms. Kennedy, and the catering class crew also deserve praise for making the event an entertaining evening for all who came out.