Biathlon event ready to wow at Winter Games
Posted on February 2, 2016 by 40 Mile Commentator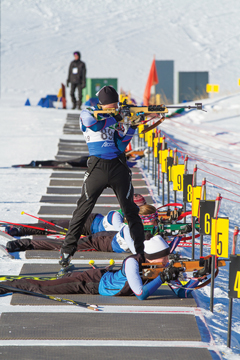 PHOTO COURTESY OF CANMORE CAMERA CLUB - Alberta Winter Games organizers are hoping for more snow and cold at Elkwater, particularly for the biathlon event where volunteers have gone above and beyond to host a stellar event.
By Tim Kalinowski
When putting together the ski events for any type of winter games it tends to be the downhill, freestyle and snowboarding which people think of and tune into. However, the cross country ski events also have a presence in the games, and even predate the inclusion of the downhill events.
One of the oldest winter cross country sports, dating all the way back to the first Winter Olympics in Chamonix, France in 1924 was called "military patrol." Today we know it as biathlon, and it will be a major part of the sporting events occurring out in Elkwater for the upcoming Alberta Winter Games.
A biathlon competition consists of a race in which contestants ski around a cross country trail system and take part in two or four shooting rounds. The contestant with the shortest total completion time wins. The contestants must hit five targets, each miss results in skiing around a 150 m penalty loop. There are several different biathlon events included in this year's Winter Games. An air rifle event for those 14 years of age or younger which has three different race distances for team and individual competition and a DEV-1 and DEV-2 competition using regular rifles. DEV-2 is for those aged 16 and older and has longer ski distances.
Erin Jarvis is a Medicine Hat and district Winter Games assistant who is charged with helping to coordinate all the snow sport events held at Elkwater. She says bringing biathlon to the Elkwater rodeo grounds posed unique challenges for organizers.
"We transported out over 360 bales. The bales were flax bales that were custom baled for us. It took over four days to transport the bales out and then about two weeks to set up the range. That was the biggest effort we had after getting the track surveyed and having to go back and forth with Biathlon Alberta to meet their regulations. We also needed to work with the ASA to have our shooting range approved. We were hoping to find a place where we can put a permanent range. Unfortunately that has not happened; so the spot we picked is going to be our temporary range. It has been a lot of work and it's our volunteers that made it happen," says Jarvis.
Jarvis says organizers are still waiting for the specialized targets to arrive from the World Cup competition in Canmore. They will not arrive until Feb. 9 or 10. However, the biggest challenge remains the mild winter weather conditions at the biathlon site.
"The conditions are not ideal," admits Jarvis. "In areas where the sun doesn't hit we've got snow and we're laughing. But where the sun hits we need a lot more snow. If that doesn't come we'll go into our contingency plan, which is running and shooting. When you rely on Mother Nature as part of your organizing committee you usually have to go with what you have."
Jarvis credits the efforts of Alberta Parks staff who have been vigilantly maintaining the trails and packing down snow this winter to help preserve it whenever a new snowfall comes along.
"They have been fantastic to work with," confirms Jarvis. "There wasn't any destruction of major trees, but they have helped clean up the area for us. It was a pretty wide open space to begin with."
Jarvis says those who choose to come out to view the biathlon event from the Medicine Hat area are in for a treat.
"People don't tend to consider the shooting sports as much as others. Without having a local club there is not much opportunity to witness a shooting sport like this live. It's a really good chance to learn about the sport and see what it takes for these athletes to compete."
She also promises the sight lines organizers have established will allow spectators a good view of the range. Binoculars might still be in order for those who wish an up close view of the athlete's shots as they strike the targets.
"Where we have the spectators located I don't think sight lines are going to be an issue. They are going to be able to see everything pretty well," says Jarvis.
The biathlon events kick off at 8:00 a.m. on Saturday, Feb. 14 and continue through Sunday, Feb. 15 at the Elkwater rodeo grounds.