AHS reps meet with town council, address issues of concern
Posted on February 9, 2016 by 40 Mile Commentator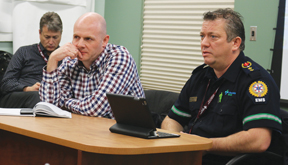 PHOTO BY JAMIE RIEGER - Sean Chilton, senior vice-president for the AHS south zone (Pictured, left) and Tony Pasich, associate executive director of EMS for the south zone, attended the Jan. 25 Bow Island town council meeting.
By Jamie Rieger
Bow Island town council was able to ask questions and raise their concerns about EMS service in the area when Sean Chilton, senior vice president for the Alberta Health Services south zone and Tony Pasich, EMS associate executive director for AHS south zone attended their Jan. 25 council meeting.
Pasich noted in his address to council that a master service plan, initiated in 2014, will be released in the coming weeks.
"Last summer and fall, we were engaging with our stakeholders, highlighting pillars and learning how to best achieve where we need to go," said Pasich.
This includes response time targets, which encompasses such things as patient experience, information gathered through a survey.
"Our goal in that measure is 90 percent. Also patient vital signs. We want to get two sets of vitals and monitor them. Our target is a 90 percent comliance and we are close to that now," he said.
For ambulance dispatch, the target is to have the first most appropriate ambulance dispatched within 90 seconds of receiving the call.
"We have four categories here to help us build our operational plan; metro, urban areas, communities greater than 3,000 people, rural areas that are within 200 kilometers of an urban centre, and remote areas that are more than 200 km away from an urban centre," he said.
"For EMS response times, I am comfortable to say we are meeting the targets for rural areas. Our goal now is to look at what we are doing and where there is room for improvement," he added.
Last quarter, there were 120,000 calls across the province and 36,000 of them were in the south zone.
Pasich also indicated that AHS is still working on a consolidated dispatch model, something rural municipalities have been concerned about.
Mayor Gordon Reynolds raised the issue of non-ambulance transfer vans.
"The vans are used for non-emergency transfers. In the south zone, we have three in Raymond and three in Brooks. When they are in the community, they get utilized. We will have one in Brooks, one in Medicine Hat, and one in Taber and we do recognize that we need more," said Pasich.
Reynolds also asked if there would be any support coming for the HALO helicopter.
"I worked with them before Christmas and there are operational pieces that they can work with. Our provincial team has met to talk about their needs and about sustainability," said Chilton.
Chilton and Pasich have been visiting municipalities throughout the south zone over the past few months to provide updates and gather feedback on issues of concern.