Food bank needs more food, cash, and cattle
Posted on February 16, 2016 by 40 Mile Commentator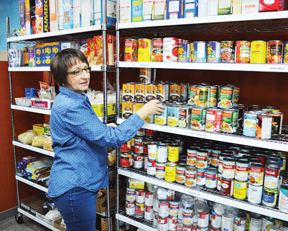 PHOTO BY TIM KALINOWSKI - Volunteer Sandy Standish helps stock canned goods at the Medicine Hat and District Food Bank last Thursday. The food bank is in need of donations of food, cash, and beef to meet the growing need for its services as the poor economy hits home for many.
By Tim Kalinowski
The Medicine Hat and District Food Bank has seen a 500 per cent increase in usage over last year's numbers. Cypress County residents account for four per cent of the Food Bank's total users and Redcliff for three per cent. And that number is steadily rising, says Celina Symmonds, co-executive director of the Food Bank.
"With the change in economy, with oil prices being where they are and with job losses in our communities, we know we are going to continue to see some increases. Food Banks are also at a disadvantage because when use goes up often donations go down. Some of the those companies that have donated in the past are juts not going to have the capital to do that in the future," says Symmonds.
Fellow co-executive director Tammy Vanderloh says the economic fallout isn't just confined to the oilfield economy either. They are seeing in increase in usage from other sectors as the economy worsens, and count many of those who now use their Food Bank among the working poor—those who have jobs but still cannot make ends meet.
"It's not just the oilfield. It's the companies that are building houses. We're seeing roofers and siding and drywall guys; that have all been laid off. So it's a trickle down effect. It's across the board where people are being let go or having their hours minimized," says Vanderloh.
Last year on a typical day the Food Bank served about 10-15 families. That number has increased to 54-56 families a day in recent months.
"We're seeing many new people coming in who have never used the Food Bank before," confirms Vanderloh.
Symmonds says the Food Bank is definitely looking for more donations to help those in need. It has about four weeks of non-perishable food items left at current usage levels before it begins to run out. Donations to the Food Bank can be made in food items or in cash, and she also has a special ask for local farmers and ranchers.
"We are looking for cash and food donations," says Symmonds. "Cash does go a lot further for us because we have buying power within the Food Bank, and we can buy twice as much as the average person can. In the farming community we also can accept, through Deerview Meats, cattle donations to provide meat to families in need. And we can do tax receipts for that kind of donation. We are right out of beef right now. We have none left."
"We are not needing 4H quality animals," emphasizes Vanderloh. "We're looking for animals that can give us hamburger, stew meat and soup bones."
Symmonds is grateful for the ongoing support she is seeing in the region despite these challenging times.
"We are seeing tremendous generosity, but we also know if the money isn't there it's not going to be able to come here. It's to be expected. Thank you to those who have already donated, and been extremely generous," says Symmonds.
Those looking to donate a beef to the Medicine Hat and District Food Bank can call Perry at Deerview Meats 403-527-2221 to get information on all that is required.