Ag. societies part of our heritage
Posted on February 23, 2016 by 40 Mile Commentator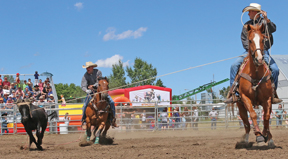 FILE PHOTO BY JAMIE RIEGER - The Foremost Agricultural Society hosts an annual rodeo, with lots of community events for visitors. Pictured are a pair of team ropers in the arena at last year's Foremost rodeo, with a bouncy castle for the kids and a display of farm equipment in the background.
By Jamie Rieger
This week, our community newspapers are celebrating the values of traditional country living and cowboy culture. The Special Section recognizes the people and organizations that have worked hard to keep our small communities and way of life alive and thriving. The Foremost Agricultural Society is one such organization, where dedicated volunteers work together to make things happen. Be sure to check out our Country Living section in this week's Commentator/Courier.
When a rodeo is held in a small Alberta town or a major community project is being accomplished, chances are a local agricultural society has played a major role in making it all happen.
The current Foremost Agricultural Society was formed in 1984, but  according to the Glenbow Museum archives, Foremost had an agricultural society in 1927 and again ten years later. Today, more than a century after the first agricultural society was established in Edmonton, there are more than 200 Ag. societies active in the province, providing more than 1,000 agricultural fairs and events each year.
"Vern Arnold was one of the lead guys who got (the current Foremost Agricultural Society) going. They did it because the government was making some grant money available," said Craig Walsh. "At that time, the Lions Club was running the rodeo and they were running out of members."
They have also made improvements to the rodeo grounds over the last few years, including upgrading the grounds, the bucking chutes, and installed some new stands.
Currently, they only have five or six active members, but when an event, such as the annual rodeo, is held, they get lots of support in return from the community.
"We get a real good crew come out and help with the rodeo, probably 10-12 guys. Then, we have different community groups help, too. The 4H and school groups help us at the gate and it helps them out a bit too," he said.
But, they are involved with much more than hosting the annual rodeo. The Foremost Ag. Society provides two $1,000 scholarships each year to local high school students. They also have contributed to new playground equipment ($20,000) at Foremost School, the ice plant at the Foremost Civic Centre ($50,000), and were big supporters when a new community hall was built.
They also host a Farm Safety Day to teach young people about safety on the farm. Walsh teaches them about being safe around large equipment.
"I show the kids where there may be places where they might not see other people while they are in the large piece of equipment," he said.
In order to keep the traditional events, like rodeo, alive, and to keep being able to support community projects, the Ag. Society is always searching for new, active members.
"The biggest thing is to keep some of this stuff going, like the rodeos and demolition derbies," said Walsh. "We just need ore people to come out and help. It's getting pretty tough when it's the same people all the time. It's kind of getting desperate. We are needing more people to come forward for our executive."
It is because of the dedicated group of people they do have that allows them to continue.
"We really do have a wonderful bunch of volunteers for our events and a really good committee who do a very good job," said Walsh, adding that Foremost resident, George Piper has served as treasurer for the organization for the past 30 years.