Notes from Feb 10 County of Forty Mile council meeting
Posted on February 23, 2016 by 40 Mile Commentator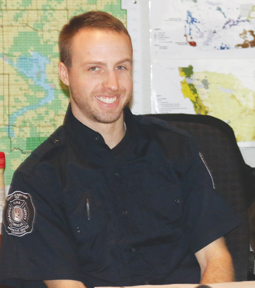 By Jamie Rieger
Utilities
The new bulk water systems the county has installed are proving to be a good investment, according to Utility officer, Stewart Payne. According to his report to county council, the Burdett bulk water station generated $6,044 in revenue for the one-third of the year since it started operating in 2015, compared to $5,100 for 2014.
"Even the Manyberries bulk water station is bringing in more money than historical," said Payne.
Fire chief report to council
The County of Forty Mile's new fire chief provided county council with a report of his
One item he would like to see in each of the county's fire halls is an eye-wash station.
He is also considering establishing way for area ratepayers to apply for burn permits online, in addition to fax, email and in person. McGarry said doing so would modernize the system and allow people more flexibility and convenience when applying for  permit.
McGarry is also reviewing the health and safety manual, looking for items that may need to be updated.
Road bans
Council voted in favour of putting in place a 75 percent road weight allowance on all gravel roads within the county, excluding Nemiscam Road between Highway 3 and Highway 61, and Range Road 102 between Highway 61 and Highway 501. The road ban includes the oiled road on Range Road 102 south of Burdett. The road ban went into effect at 7:00 a.m. on Feb. 11.
Solar Energy facility bylaw
County council passed first reading of the bylaw that would allow the incorporation of a new solar energy facility. The public hearing is set for Mar. 9 at 1:00 p.m.