RES looking to build wind energy project in county
Posted on February 23, 2016 by 40 Mile Commentator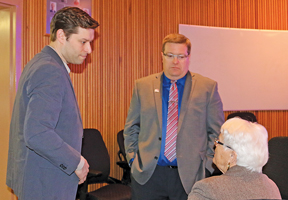 PHOTO BY JAMIE RIEGER - Lucas Reindler (left), development manager for Renewable Energy Solutions (RES), answers questions by County of Forty Mile councilors Steve Wikkerink and Joan Hughson.
By Jamie Rieger
The location has been determined, land agreements have been signed, and studies being done for a new wind energy project being proposed for the County of Forty Mile.
Lucas Reindler, development manager for Renewable Energy Systems Canada Ron Galbraith, RES land agent, based in Seven Persons provided county council with an update on the Forty Mile Wind Power project early in February.
Since starting with the project last fall, RES has secured 25,000 acres in land agreements, have hired a land agent, and have submitted their application to the AESO (Alberta Electric System Operator).
In selecting the location for the wind turbines, they have also studied the region, looking at where would be viewed as having the lowest impact and is situated further north than the previous Shell Wind Energy project. RES would have to connect to the transmission lines to the southeast and to the Whitla substation.
Moving forward, RES wants to continue to grow by at least 10,000-20,000 acres that would accommodate 120 total wind towers.
Reindler gave several reasons why now is the time to build wind power facilities in Alberta.
"One, the provincial government has put in place a carbon capture policy. Two, there is the federal regulations with the Clean Air Act, and three, this province has a great synergy between wind and farming," he said.
Reindler also said there would be great benefits to the local economy.
"There would be local revenue generation through taxes and royalties. The project would support the local communities and businesses through jobs and materials, and support services. We also support local things like the libraries and health foundation," he said.
When asked what would happen on calm days where there was no wind, Reindler was quick to respond.
"It may not seem windy on the ground, by 150 feet in the air, there will be. Between 85 and 90 percent of the time, there will be some wind being generated," he said.
RES is a privately owned construction company, based in London, England. According to Reindler, the company has constructed 10 percent of all wind farms in North America.
"We are the leader in energy storage technology in Canada and the U.S.," he said.