Scouts and guides week proclaimed in Redcliff
Posted on February 23, 2016 by 40 Mile Commentator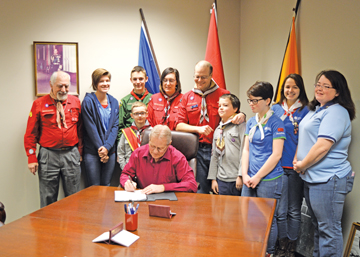 PHOTO BY TIM KALINOWSKI - Redcliff mayor Ernie Reimer signed a proclamation on Feb. 19, declaring Boy Scouts and Girl Guides Week, with local guides and scouts in attendance.
By Tim Kalinowski
Mayor Ernie Reimer signed a Proclamation recognizing Boy Scouts and Girl Guides Week Feb. 21-27 in Redcliff at a special ceremony in council chambers on Friday. Local Scout and Guide leaders as well as young participants from most branches were in attendance for the signing. Reimer said it was a good opportunity to recognize the contributions of these organizations to life in Redcliff.
"Scouts and Guides do a lot of good works for the community," said Reimer. "We also have a big Scout and Guides hall here in town which is important to the community."
Regional service scout, and local Scouting legend, Bill Litousky was on hand to help the Mayor usher in the Proclamation. He said Boy Scouts and Girl Guides Week helped celebrate and reflect on all these movements have brought to young people for over a century.
"It gives people in the (Scout and Guide) movement focus to our founders Lord and Lady Baden-Powell. From my point of view it gives us time to think about what Scouting is all about," said Litousky. "It gives youth guidance and it makes them better citizens. It teaches them things like outdoor survival (skills) and community service."
Scout Hayden Maxwell, who has been in Scouts for seven years, was also present for the signing. Whereas Litousky thinks about the traditions of Scouting, Maxwell has a much simpler measurement of the movement's value to his own life.
"I like the camping part of it and doing stuff in the community is pretty cool sometimes. I really like it," said Maxwell.
Pathfinder Emily Lukas, who has been in Guides for nine years, agreed with Maxwell, but said Guides had also given her something more.
"I think it has made me a better person because I have responsibilities in Guides," she said.