Rancher criticizes councilors for country residential policies
Posted on March 8, 2016 by 40 Mile Commentator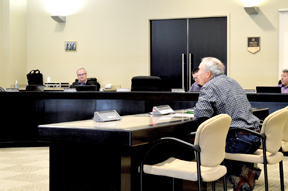 PHOTO BY TIM KALINOWSKI- Cypress County council received a thoughtful critique from U over L Ranches owner, Dan Jackson over its continuing push to allow more country residential development on agricultural land in recent years.
By Tim Kalinowski
County policies about country residences were in the spotlight last week as Cypress County council weighed a motion whether or not to allow a residential subdivision within a 500 metre set-back zone designated for Rattlesnake Feeders located about 10 km west of Redcliff just south of Township Road 124. The feedlot is owned by the Jackson family of U over L Ranches. Dan Jackson (who owns the ranch), Kevin Jackson and Leslie Jackson (who co-own the feedlot) were all on hand to give councillors their thoughts on the subject.
The county's planning supervisor Jeffrey Dowling had recommended council approve the subdivision by an adjacent landowner despite these concerns. He did note, however, that if anyone bought the plot and built a residence they would forego any rights to complain about Rattlesnake's feedlot operations under Natural Resources Conservation Board (NRCB) regulations.
Dan Jackson spoke to council at the public hearing in opposition to the motion. He managed to turn it into a thoughtful defence of the rights of those engaging in agriculture in southern Alberta, where country residences continue to take root at an accelerated rate in former pasture and cultivation land.
"The problem we have is if you let individual move-ins (within that restricted zone); as much as they don't have weight in those conversations (with the NRCB) and with their complaints, the complaints start to pile up. If you allow one, you eventually allow more within that restricted area, and you get more and more complaints. And then it does start to have weight; even if it is not legal."
"I have seen operations that ended up having to be closed down (over such continuing encroachments) due to all the restrictions on manure handling, the noise, the dust and the smell," continued Jackson. "We can say (now) the owners will be in agreement with it, but we don't know who is going to own this land in 10 to 20 years. And we all know that it keeps changing, and eventually you get people in there who will drastically oppose it."
Jackson said he did not understand why the county would allow acreage development within zones designated to agricultural businesses like his family's feedlot when those businesses have done everything to comply with county and NRCB regulations in setting up those operations in the first place.
"If we restrain our local feedlots (with encroaching development) it is going to be detrimental to our county as a whole," said Jackson. "When we build a commercial zone no one is allowed to build within that restricted area. I sometimes wonder why we didn't do the same with agriculture. I sometimes believe as a county we almost need to be designating these livestock operations as areas that are set aside, the same as we do a commercial area. That they be restricted and not allow (residential) subdivisions."
Jackson acknowledged the temptation for a landowner like him to subdivide with land prices being valued so high, but he wondered if the cost to local agriculture, in the end, was worth it.
"Financially it would be to our gain to sometimes subdivide large portions of our land," said Jackson. "But sometimes we have to look at it as a whole as to who is going to feed the world when we continue to let everything be paved out."
Council ended up rejecting the proposed residential subdivision by a vote of 9-0 against.