Group working hard on Civic Centre improvements
Posted on March 16, 2016 by 40 Mile Commentator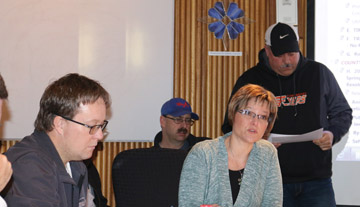 PHOTO BY JAMIE RIEGER-Pictured from left: Dale Mehlen, Lee Snortland, Stacey Barrows, and Shaune Harty attended last week's County of Forty Mile council meeting to discuss funding for the major improvement project at the Civic Centre.
By Jamie Rieger
Members of Foremost Minor Hockey attended the Mar. 9 County council meeting to discuss funding for the upgrade/renovation project at Foremost's Civic Centre.
The project will include new dressing rooms, restrooms and fire alarm system. Work on the swimming pool and lobby rest rooms are scheduled to be completed first. Foremost Minor Hockey and the Village of Foremost are more than $56,000 short.
The group has been working tirelessly with fundraising endeavours and in securing grant money for the project. County council elected to wait until hearing from the Village before making any decision.