McMan Parent Link Centre teaching the value of play in pre-schoolers
Posted on March 22, 2016 by 40 Mile Commentator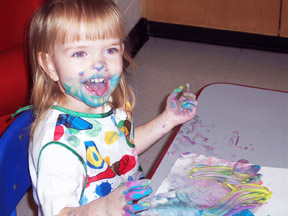 PHOTO BY TIM KALINOWSKI- McMan's playgroups meet in Irvine, Seven Persons, and Ralston on a monthly basis and focus on using play to foster early childhood development and learning.
By Tim Kalinowski
The McMan Parent Link Centre wishes to extend an invitation to pre-Kindergarten kids and their parents to come play with them in Irvine, Seven Persons and Ralston where they hold monthly playgroups to help foster early childhood development and create social connections between residents.
"We have been running this program in Irvine for quite a few years," explains Angela Dunn, a child and family development worker with the Parent Link Centre. "It has been a well-attended group. The one in Seven Persons kind of dropped off a couple of years ago so we are making an effort to start it up again. We also have a play group in Ralston as well. It's a drop-in playgroup. And the whole purpose is just to give parents and children a chance to get out of the house and socialize with each other. We do a lot of play activities to help further improve developmental skills in the little guys."
The drop-in playgroup is free of charge and is tailored to requests from local parents.
"It all varies on what the parents are wanting," explains Jody Schlenker, another child and family development worker who helps out with the program. "I know when we go to Ralston, for example, they want a lot of messy play. So we'll bring out things like cooked spaghetti, play-doh, painting ideas and all the goopy kind of stuff used in messy play… I would say just come out and be your inner kid too. Because we encourage the parents to play with the children and experience what they are experiencing. And just have fun together."
Dunn says it has been proven by research that structured play helps foster greater social and cognitive development in young children. It is good for adults too.
"Be the best parent you can be is one of the mottos that we have. When you think about it, the child's work is play. It also gives parents a chance to not feel so isolated."
Irvine hosts the playgroup at the Sports Complex on the first Thursday of the month. Seven Persons hosts at the Community Hall on the third Thursday of every month. And Ralston at Christ the King Chapel on the second and fourth Thursdays of the month. The playgroups run through June.
For more information call the McMan Parent Link Centre at 403-504-0833 or visit their website at parentlinkcentre.com.