Funeral for Hillyer scheduled for Friday
Posted on March 23, 2016 by 40 Mile Commentator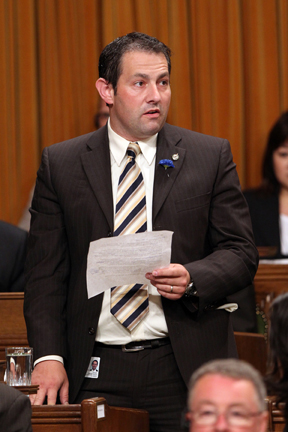 PHOTO COURTESY OF COLLEEN VALIN- Medicine Hat-Cardston-Warner MP Jim HIllyer has passed away at the age of 41. Pictured is Hillyer in his first statement in the House on June 6, 2011.
By Jamie Rieger
The funeral service for the late Jim Hillyer, Member of Parliament for Medicine Hat-Cardston-Warner , will be held at the Church of Jesus Christ of Latter-day Saints Stake Centre in Raymond on Apr. 1, with a viewing and meet-the-family taking place from 10:00-10:50 a.m. and the funeral following at 11:00 a.m.
The sudden passing of Hillyer came as a shock to people from throughout the constituency, as well as from the political community.
Messages of condolence were being sent from throughout the political community on Wednesday morning following the confirmation of his passing.
"I am shocked and saddened to learn of his passing. In the time I was able to work with him, I learned he had a strong belief in fiscal values, in rural Alberta, and strongly committed to family," said Drew Barnes, MLA for the Cypress-Medicine Hat riding. "He was a good public servant."
Bow Island mayor Gordon Reynolds also expressed his shock when learning of Hillyer's passing.
"I am shocked and certainly the community sends condolences to his family," said Reynolds on Wednesday morning.
Wildrose leader, Brian Jean released the following statement upon learning of Hillyer's passing.
"I am incredibly saddened today to hear of the sudden and tragic passing of our friend Jim. Jim was a man who lived his life with passion and dedication to public service – an individual who lived faithfully and honourably to his family and friends. Above all else, Jim should be remembered as a man of strong faith, a loving father and husband, I pray comfort for his family, and on behalf of the Wildrose, offer our deepest condolences."
Rona Ambrose, Leader of the Official Opposition and interim leader of the Conservative Party released the following statement:
"I was deeply saddened to learn of the sudden passing of our friend and colleague, Jim Hillyer," said Ambrose. "Jim was a valued and hardworking member of the Conservative team, and a passionate advocate for those he represented. More than that, he was a dedicated husband and father, a man of strong faith and conviction. I pray that his and his family's faith will help them through this difficult time."
Prime Minister, Justin Trudeau also issued a statement on Wednesday morning, sending condolences to the Hillyer family.
"It is with great sorrow that I learned today of the death of Jim Hillyer, the Member of Parliament for Medicine Hat-Cardston-Warner," said Trudeau. "On behalf of all Canadians, Sophie and I would like to express our deepest condolences to his wife, Livi, their four children, and his friends and colleagues. The parliamentary community is a tight-knit one, and I want to say how much of a privilege it has been to serve with Jim. I know he will be greatly missed on the Hill and in his constituency."
MPs were preparing for their weekly caucus meetings and Question Period to discuss the federal budget when they learned of the news, but the House was adjourned for the day following tributes and prayers.
Hillyer was born and raised in southern Alberta and was active in Raymond, where he and his family resided, having volunteered with Minor Hockey, the Heart and Stroke Foundation, and was a leader with Scouts Canada. He also sang with the University Singers and played violin in the Lethbridge Symphony. After overcoming aggressive leukemia in 2003, he became a spokesperson for the Canadian Cancer Society.
Last month, he had undergone surgery when an infection had developed from a leg injury. In a telephone interview with the Commentator on Tuesday afternoon, Hillyer said he felt it was important for him to be in Ottawa for the presentation of the federal budget.
"I am taking antibiotics through IV three times a day for two more weeks, but I am feeling fine," he told the Commentator.
On Feb. 13, Hillyer had part of a bone in his lower leg removed because of lingering problems from a broken leg he sustained while skiing in 2013.
Hillyer was first elected to the House of Commons in 2011 (for the Lethbridge constituency), and to a second term in 2015 in the Medicine Hat-Cardston-Warner riding.
A biography released by Colleen Valin, Chief of Staff for Hillyer's office indicated his long commitment to the First Nations people, and was a published author of Coyotes and Indians, as well as a documentary producer of a film that examined the last 100-year history of the Blood Indian Reserve.