Easter bonnets add festive touch to Ralston
Posted on March 29, 2016 by 40 Mile Commentator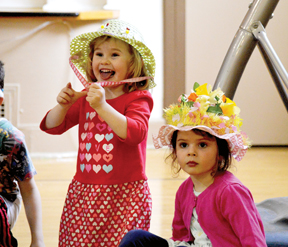 PHOTO BY TIM KALINOWSKI
By Tim Kalinowski
Ralston School students put their own stamp on adorable with their annual Easter Bonnet parade last Thursday. The beautiful, floral bonnets, (made by the students themselves), transformed the school's gym into a pageant of spring colours as every class made a turn about the floor to show onlookers their best Easter smiles and looks.
The making and wearing of Easter Bonnets is a tradition which dates back to at least the 16th century in England. According to Wikipedia the making of the bonnets represent being in harmony with the renewal of the year and the promise of spiritual redemption associated with the Easter season. Although not much seen in Canadian schools anymore, it's a tradition still very much alive in English ones, and perfectly in keeping with the character of the BATUS troops stationed at CFB Suffield, many of whom live in Ralston with their families.
The stately pageant was wonderful and offered many beautiful sights to behold. It was quickly followed by a wild Easter Egg hunt which ranged over the school's entire grounds as first the Kindergarten and then later Grade 1 and 2 students ran about searching in every nook and cranny for the precious candy-filled orbs: Most still wearing their bonnets, and trying and desperately to hold them on their heads as they ran, crawled under playground equipment and jumped up to pluck eggs in cleverly concealed in the branches of the surrounding bushes.
While more frantic than the parade by its very nature, the Easter Egg hunt was nearly as adorable. What a treat it was to be in Ralston last Thursday!