Drilling water for Christ in driest Kenya
Posted on April 5, 2016 by 40 Mile Commentator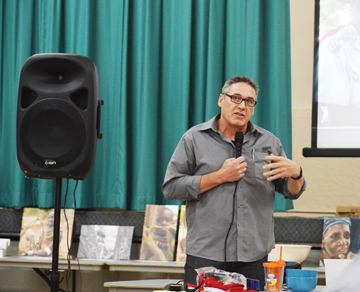 PHOTO BY TIM KALINOWSKI- Nehemiah Construction Ministries founder Dave McElhinney speaks at the ministry's annual fundraiser dinner and auction in Seven Persons on Friday evening. It has been a year of many challenges and blessings for their work in Kenya, says McElhinney.
By Tim Kalinowski
Nehemiah Construction Ministries held its annual fundraiser dinner and auction at the Seven Persons Hall last Friday evening. As founder Dave McElhinney related so emotionally during the event, it has been a challenging year for the ministry in the Turkana region of Kenya, where he and his team have been drilling much needed water wells for the past eight years.
"After the (fundraising) dinner we had here last year, things were pretty tough," he said. "Our drilling rig is very old. It's a 55 year-old percussion rig, and it was on its last leg. We were  broken down and we just couldn't drill the water wells I wanted to see. I had been praying I need help."
That prayer was answered when supporters came forward to put up the money for the replacement parts he needed.
"I went in January and tore it all apart so we should get another 10 to 15 years out of it," said McElhinney. "That's very exciting, and we were able to find all the parts we needed for a 55 year-old rig. Now that is a miracle from heaven!"
He also received a surprising phone call out of the blue from a retired professional driller named Larry Falldorf.
"He's a percussion driller from Anchorage, Alaska and he has done over 40,000 feet of wells and over 300 wells with this model of percussion drill. We took him out to the bush, and within 15 minutes he was running that drill and telling us we need to fix this, this and this."
Falldorf's initial commitment was for six months. He and his wife have now agreed to stay on for five years.
"I thought, thank you Lord!" said McElhinney.
The ministry has also received another bit of good news. For the past four years Nehemiah has been trying to get a second drilling rig in country to expedite their drilling work; they have recently succeeded, and the second rig should start drilling in the next few months. McElhinney said he was grateful for all the support he has received in Cypress County to make the ministry's work possible.
"We have drilled 40 water wells to date. And that is changing the lives of thousands and thousands of people. It's still not a perfect situation. If you live in Cypress County on a farm you have one well for sure, maybe two. And if you live on a acreage chances are most have their own well. Here, with as many as we have drilled, some of the women still have to walk 20 km, but, at least, they are getting clean water."
He called the 40 wells, 55 churches and burgeoning community gardens that have sprung up in their wake a magnificent local legacy.
"(The Turkman villagers) come up to me and say: 'Thank you, Old White Man. Our children aren't dying anymore.' So that's the difference we are making. And the Seven Persons community, this is your legacy. I have been coming here six years now, and you guys have been with us in every single thing we do."
The Nehemiah Construction Ministries fundraiser on Friday raised $10,943, but more support is always needed. For more information visit the Nehemiah Construction Ministries website at nehemiahconstruction.ca or call 403-928-2526 to make a donation today.