Fire completely destroys Box Springs workshop
Posted on April 5, 2016 by 40 Mile Commentator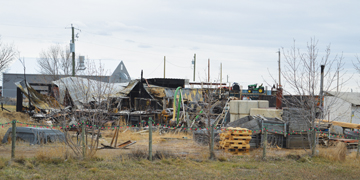 PHOTO BY TIM KALINOWSKI- Firefighters could do little to save the Redcliff Stake and Lath workshop after fire got hold of the structure last Wednesday evening.
By Tim Kalinowski
Fire engulfed and destroyed Redcliff Stake and Lath last Wednesday evening. The business, owned by Cypress County resident John McLeod since 1977, specialized in the sale of surveying stakes and wooden reels, and was located about 5 km northwest of CF Industries on Box Springs Road. The fire posed significant challenges for the Box Springs Fire Department based in Redcliff, who were the main attackers of the blaze, and for the Medicine Hat Fire Department, who contributed a fire engine and a water tanker to the fight.  By the time firefighters arrived on the scene, there was little they could do to save the structure, says John McBain, Box Springs Fire Department captain and acting deputy fire chief for Cypress County.
"I talked to the neighbour who called it in. From the time he called it in (at 9:50 p.m.), when the fire was just in the northeast corner of the building, and he said within five-ten minutes the whole thing was fully engulfed. Our first priority was to protect the house beside it because the smoke and embers and everything was going right over top of that house."
The fight was made more challenging by the scarcity of local water resources.
"Water was an issue," confirms McBain. "So it was probably an hour and a half to two hours to get it out and another hour and a half of pouring straight water on it to try and cool the hot spots. The Medicine Hat City tanker; they hauled five loads from the hydrant by Canadian Fertilizer. We also set up a portable pump and about 800 feet of line from a dugout just to the north of property and supplied one of the engines with water that way."
McBain says his crews were successful in saving the neighbouring house and preventing the spread of the fire beyond the initial workshop site.
"We protected the neighbouring structure, no grassfires got started, nobody got hurt and everybody went home. Out in the county the chances of saving a wood structure that far out of town is pretty slim. We've got to work with what we've got and save everything else around it. So it went as well as could be expected."
On a more positive note, while the fire did completely destroy his workshop and put his business in jeopardy, owner John McLeod told the Medicine Hat News last Thursday that a neighbour had stepped up to loan him the use of his workshop until McLeod could rebuild.