Hughson enjoying playoff run in Brooks
Posted on April 5, 2016 by 40 Mile Commentator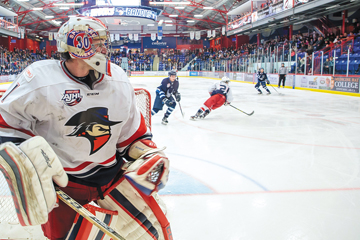 PHOTO COURTESY OF EM ROSE PHOTOGRAPHY/BROOKS BANDITS- Goaltender Garret Hughson plays the puck during a game in Brooks earlier this season.
By Sean Rooney
Southern Alberta Newspapers
One of the first things Ryan Papaioannou did when he became general manager and head coach of the Brooks Bandits was look beyond Southern Alberta for talent.
But that didn't mean he forgot about who was in his backyard.
As the Bandits continue another playoff run in the Alberta Junior Hockey League this spring, they feature two players with Medicine Hat connections —Foremost goaltender Garret Hughson and Hat forward Nick Prkusic.
With aspirations of a league title, there is understandably a lot of excitement leading up to Game 1 of the best-of-seven South Division finals Friday against the Camrose Kodiaks.
"I don't think our team was given a ton of credit coming in to this year," said Papaioannou, who's been with the club since 2008. "I think a lot of people felt like this would be a down year.
"But our young kids who came back made tremendous gains over the summertime, we've been fortunate to have a few trades work out in our favour and some of the kids we've recruited have been top-notch."
Among the moves that worked out was Hughson, a 20-year-old in his final year of major-junior eligibility. After three seasons with the WHL's Spokane Chiefs, Hughson was let go after four games this campaign and landed with the OHL's Windsor Spitfires.
In Windsor he didn't even have a car, was splitting time with a 16-year-old rookie, and finally realized it was time to come home.
"I wanted to play hockey at that point, the (trade) deadline was coming up," said Hughson, who played midget AAA in Medicine Hat. "It kind of made sense to come home and try and win, get to play lots of games."
His off-season goaltending coach, Matt Wong, also worked for the Bandits. Once word got to Papaioannou that Hughson was available, it didn't take much convincing.
The results have been off the charts.
Hughson went 14-3 with three shutouts, a 2.23 goals against average and .918 save percentage in 17 regular season games with Brooks. In last week's second-round playoff series with Canmore, he shut out the Eagles in three of the four games needed to sweep.
"I'm definitely feeling the puck really good, it's been nice to come in here and it's a great coaching staff, you get to know them on a personal level," said Hughson. "It's nice to be in a spot where people have confidence in me."
The confidence is building, if that's even possible. The Bandits (49-9-2) went on a remarkable 17-game winning streak from Nov. 28 until Jan. 23, with fans harkening back to the 2013 national title run that included a 20-win streak. They've scored more goals than that year's team and have 16 players committed to NCAA programs this fall. But the coach is careful not to overfeed the hype machine.
"I don't think we need to live up to that team or be that team, because they're very different in terms of makeup," said Papaioannou. "But we definitely talk from experience with our guys about what the whole journey looks like and how long it takes and how hard it will be to get there."
It's notable that the Kodiaks were the team that ended the long win streak, and are the rare team in the AJHL with a winning record against Brooks this season at 3-2-1. They took the Bandits to seven games in playoffs last year before losing out.
Nobody ever said winning a title would be easy, but the 2,400-seat Centennial Regional Arena figures to be packed for games Friday and Saturday night, both at 7 p.m.
"The environment's great, it's probably better than some lower-end WHL teams," said Hughson. "We've got the best rink in this league for sure, it's real new and it usually fills up, it's really loud."
Add in the fact his friends and family can easily pop by to watch him play, and it's the perfect spot to finish his days in junior hockey.