Colleagues remember Ron Lane
Posted on April 12, 2016 by 40 Mile Commentator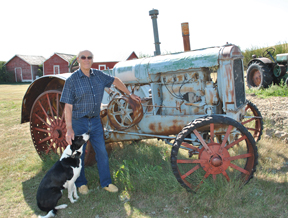 COMMENTATOR FILE PHOTO BY JAMIE RIEGER- Beloved former councilor for the County of Forty Mile, Ron Lane, passed away last Monday after a courageous battle with cancer. Lane is pictured here with his dog Sandman in 2013 after announcing his retirement from municipal politics.
By Jamie Rieger
When Ron Lane retired in 2013 from serving as a councilor for the County of Forty Mile., he wanted to dedicate his free time to his family and to his hobbies. After more than two decades in municipal politics, deserved to slow down the hectic pace of political life.
Lane passed away on Mon., Apr. 4 after a bout with cancer and is being remembered fondly by his colleagues.
Former reeve, Tom Thacker, who worked alongside Lane on many issues, said Lane was a leader on council whose words always held weight.
"Ron was our patriarch on council. He wasn't a boisterous member of council, but was more reserved," said Thacker. "He had a favourite saying that was his lead-in. If he said, 'Ah, I was just thinking…' then everybody stopped and took notice and that would set the tone for the discussion."
Thacker also said that despite being the quiet voice of reason in the council chambers, Lane always stood up for the best interest of his constituents.
"He was a gentle man who served his division properly. He stood up for his constituents, especially about things like land use and setbacks. Ron did a credible job," said Thacker, who is taking Lane's seat on the Municipal Planning Commission.
Reeve Bryne Lengyel echoed Thacker's words.
"Ron Lane was a great man and was wonderful to work with. He was a man of few words, but when he spoke, it was always meaningful," said Lengyel.
County administrator, Dale Brown also said that Lane's dedication did not go unnoticed.
"He was a very dedicated council member and represented his constituents very well," said Brown.
His funeral service is being held at 1:00 p.m. on Tues., Apr. 12 at the Christian Community Church in Burdett.