Council divided over County Mountie position
Posted on April 12, 2016 by 40 Mile Commentator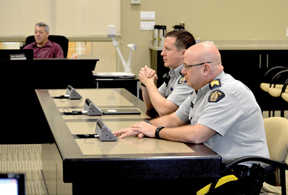 PHOTO BY TIM KALINOWSKI- Cypress County is mulling over whether or not to continue its enhanced policing agreement with the RCMP. Council is deeply divided over the issue and sought further information from Redcliff detachment commanders S-Sgt. Sean Maxwell (front) and Sgt. Kris Zanidean last Tuesday.
By Tim Kalinowski
S-Sgt Sean Maxwell and Sgt. Kris Zanidean of the Redcliff RCMP appeared before Cypress County councillors last Tuesday to make a last minute pitch to have the "County Mountie" position retained in the region.
Councillors had initially voted on March 1 to retain the position by a narrow margin of 5-4, but subsequently revisited the issue at a special meeting on March 24 as the deadline to re-sign with the RCMP drew near.
Council heard from the local RCMP commanders themselves last week, and was able to express its concerns about ongoing complaints from some in the county about the enhanced officer position; complaints including the hours the enhanced officer works and his or her willingness to work outside of a 9-5, Monday-Friday work day, his or her responsiveness to complaints lodged by Cypress County residents about specific issues of local concern and the overall high cost of the program to the County budget.
Maxwell acknowledged he had heard complaints about some of these areas, and that he was willing to move the enhanced officer position under his personal authority to directly intervene to find solutions. The position has been under the authority of the Redcliff RCMP traffic unit for the last number of years, (currently commanded by Zanidean), and not the detachment proper, (currently commanded by Maxwell).
"The buck stops with me," said Maxwell. "If we've assigned a member a certain shift schedule, and that member isn't following it, that member is responsible to discuss that with me; especially if they are getting (negative) feedback from Cypress County. My view on the position is that most enhanced positions that I've seen are positions that are earned by members. They are kind of a special duty… The right person can do a great job. The wrong person could cause me to be back in here on a regular basis facing, for a lack of a better term, the wrath of the council sitting here and now asking me why he isn't doing it and why is the money being spent to put this policeman out here?"
Maxwell said his first step upon assuming direct authority over the County Mountie would be to re-evaluate how the enhanced officer, who is relatively unsupervised on a day to day basis due to the special nature of his duties, is chosen from among Redcliff detachment members.
"My best take on it is to make this position a competition at detachment so it doesn't just fall to somebody like (current County Mountie) Cst. Barrett or  Cst. McCarthy (the previous County Mountie)… My point being that if a member isn't doing the job, I need the ability to pull them out of there and put somebody new in there; and to have the trust the member is doing the job."
Discussion is expected to continue on this issue over the next few weeks, but council will still have to make a decision of whether or not to retain the enhanced officer position by the end of April.
"We have to justify the money being spent and whether we think we are getting what we should have," said Reeve Darcy Geigle, stating the bottom line position of councillors.