Motz first Conservative to declare in Medicine Hat-Cardston-Warner
Posted on April 15, 2016 by Commentator/Courier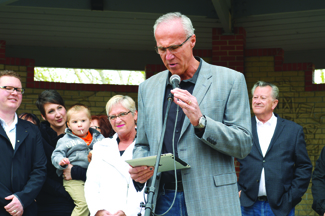 Recently retired Medicine Hat Police Inspector Glen Motz announced his candidacy for the Conservative Party nomination in Medicine Hat-Cardston-Warner.
Former Medicine Hat Police Service Inspector Glen Motz, who only recently retired from the force, became the first candidate to declare his intention to seek the Conservative Party nomination in the Medicine Hat-Cardston-Warner riding following the untimely death of MP Jim Hillyer.
Motz's first thoughts during the media scrum following the announcement were of Hillyer.
"Something always excited me about how it would be great to be a senator or Member of Parliament and represent people at that level. That was decades old, but it was never something I pursued because of my (policing) career. And then, of course, with the untimely passing of  Jim, after processing that, it was a time to reconsider  what my options might be."
Motz is a long-time Conservative Party supporter who grew up on a farm near the town of Hanna, where his parents instilled him with those values from a young age. He has spent the past 35 years as a police officer in Medicine Hat. Since retiring, he has also become one of the directors of the Medicine Hat Community Housing Society. He and wife Sue have also been heavily involved with the Medicine Hat and District Food Bank and Medicine Hat News Santa Claus Fund.
Motz has had a high profile in Medicine Hat for many years, but admits he has some work to do for those living in rural areas of the riding to get to know him better.
"I know people in the county and in the (rural) community," explained Motz. "They may not know me because I did not police their community. We lived Cypress County for years so we have a huge amount friends and acquaintances in the agricultural community. That is very much (my family's) roots."
Motz said he was committed to representing both urban and rural voters if he wins the nomination and then goes on to run in the parliamentary byelection expected some time in the next few months.
"I still think I am a small town boy, and those issues to me are critical… It doesn't matter where you are and where you live, everyone (in the riding) has an equal voice. That's the whole idea of our democracy."