Prairie Rose School Division passes LGBTQ policy for all schools
Posted on April 19, 2016 by 40 Mile Commentator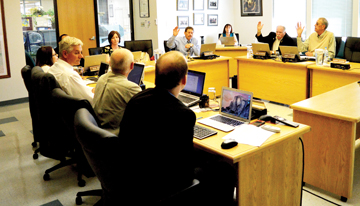 PHOTO BY TIM KALINOWSKI- PRSD school board trustees vote yes to LGBTQ policy last Tuesday.
By Tim Kalinowski
Prairie Rose School Division formally adopted its new policy A225 "Welcoming, Caring, Respectful and Safe Learning and Working Environments" after several months of consultations with local parents. The policy is a response to the Alberta Government's Bill 10, which mandated that school divisions reevaluate their LGBTQ policies to allow for a more inclusive and supportive environment for students dealing with gender or sexual orientation issues.
PRSD board chair Stu Angle said after holding discussions with parents one common theme became cyrstal clear.
"The biggest concern our parents had was their child was going to be respected," said Angle just prior to calling for a vote on A225. "I would like to reiterate the wide range of input we had… (Parents) were appreciative we went out early on and they had an avenue to express their concerns. It was a vote of confidence in our schools and in us. This policy takes into consideration what's best for the Prairie Rose School Division."
The vote was unanimous among the Trustees, with many expressing confidence in the engagement process with parents leading up to the vote.
PRSD Superintendent Brian Andjelic said this policy was not about giving more rights to certain students or groups within the division, but rather ensuring vulnerable students were being protected and supported.
"I'd like to remind ourselves why the government has asked the school divisions to have a soft spot in out hearts for students with gender identity issues, and why we were asked to have this conversation in the first place. Suicide rates are much higher than the norm amongst this group of students. There mental health issues are much higher than the norm among this group of students… It is up to all of us to help and support our students who need help and support," he said.