Cypress Hills Park Watch Assoc. AGM highlights
Posted on May 3, 2016 by 40 Mile Commentator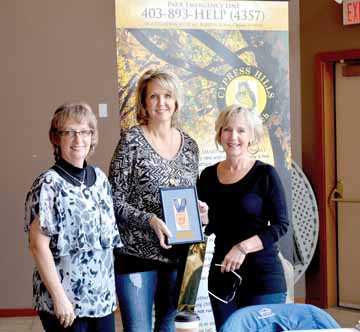 PHOTO BY TIM KALINOWSKI- Winter Fest chair Connie Matson (left) and Park Watch president, Darlene Ford (right) receive a bronze medal from Winter Games rep. Brenda Lee MacPhail (middle).
By Tim Kalinowski
Cypress Hills Park Watch Association held its AGM on Saturday, April 30 at the Cypress Hills Learning Centre. Guest presenters for the meeting were Dale Thacker from HALO, Brenda Lee MacPhail from the Alberta Winter Games and Mike Ratcliffe, Cypress Hills director of park services.
Thacker thanked Park Watch for its generous annual support of the helicopter medi-evac. service, and expressed to members present the importance of the Cypress Hills area to HALO, which has responded to numerous emergencies in the region the past several years.
He updated members on new procedures brought forward in wake of a controversial incident near Suffield last fall where STARS was called in from an hour away while HALO crews were left sitting on the tarmac in Medicine Hat 15 minutes away due to a miscommunication between the STARS operated emergency call centre in Calgary and local emergency officials.
Thacker was thrilled to report direct dispatch in Medicine Hat would now be allowed to send HALO out if it deemed time was of the essence in an emergency response situation without having to go through the STARS call centre, or having to wait for a ground ambulance to arrive on the scene first. HALO could now also land on the hospital roof directly in the case of a dire emergency instead of at the airport.
He was also hopeful about discussions with the provincial government to receive some guaranteed annual funding instead of just the $1,300 call for service fee HALO receives now.
Brenda Lee MacPhail presented a bronze medal and certificate of appreciation to Park Watch president Darlene Ford and to Elkwater Winter Fest organizing committee chair Connie Matson for the two groups' support for the Alberta Winter Games. MacPhail said the games were a huge success by every standard and measure despite the poor provincial economic outlook and the uncooperative and unseasonably mild weather.
Mike Ratcliffe gave a general update on how the park staff was gearing up for the summer months and confirmed that the park would continue to manage Hidden Valley Ski Resort for another year. He said a new park manager had finally been appointed and should be arriving in Elkwater with his family shortly.
The new Cypress Hills Park manager will be Jarid Jenkins. Jenkins comes to Elkwater from Dinosaur Provincial Park, where he has been the park services director the past few years.
The Conservation Officers' report was presented by Park Watch president Darlene Ford as a C/O could not attend the meeting in person.
The C/Os reported there have been four break-ins at Elkwater in the last few months and advised increased diligence for all local homeowners and businesses.
Other notes of interest:
Cypress Hills Park Watch Association was asked and agreed to become the umbrella organization for the annual Elkwater Winter Festival. After much discussion, members decided to take on the commitment as no other organization had expressed interest in doing so in the community in order to keep the event going. The Winter Fest will run as an autonomous sub-committee.
Long-time Cypress Hills conservation officer Paul Avery was feted at the AGM with a cake and good wishes on his retirement. He plans to keep busy now as a co-director with the local Venturers Society.
Park Watch donations for 2016/2017
HALO-$5,000
Elkwater Golf Club-$2,100 to help boost cellular service
The Venturers Society-$2,500 for new mobile radio units
Six doggie dispensers for the Elkwater community with disposable baggies-$1,552.10
Elkwater Bike Rodeo-$250
Cypress Hills Park Learning Centre-$100 to pay for hot chocolate for Winter Program
Conservation officers' request for boat sonar- Tabled for further discussion