St. Mike's students up to the challenge
Posted on May 3, 2016 by 40 Mile Commentator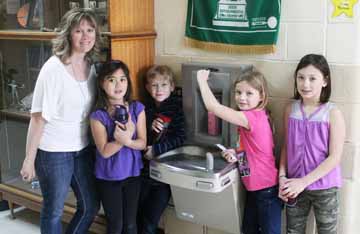 PHOTO SUBMITTED BY MELINDA MASTEL- Pictured is Mrs. Jill Weatherhead on the left with the following students Dyllan Thurston, Haisley MacLean, Elody Weatherhead (filling her water bottle) and Samuelle Biegel.
Submitted by Melinda Mastel
St. Michael's Students in Grade 3/4 participated in the 2015 Triple StaRs Grade 4 Waste Reduction Challenge in our science class.
The Grade 3/4's were entered in a draw to receive grant money to be put toward a waste reduction or environmental initiative in their classroom or school. Only two schools in Alberta received money and St. Michael's won the top prize of $500.
They joined forces with St. Michael's Parent Council in April to install a new water fountain or "hydration station" so students can fill their own water bottles easily and completely, reducing the number of plastic disposable water bottles being thrown away.