SE Albertans generous with donations
Posted on May 10, 2016 by 40 Mile Commentator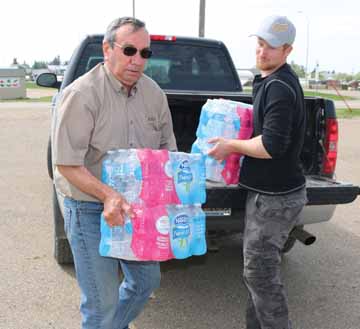 PHOTO BY JAMIE RIEGER- Lyle Tuchscherer and Pedro Schmitt unload cases of bottled water that had been donated.
By Jamie Rieger
As soon as Tony Isaac learned of the disaster taking place in Fort McMurray last week with wildfires forcing mass evacuations and more than 1,600 structures burning to the ground, he put he staff at Tru-Co Structures on disaster relief duty, setting in motion a campaign that would raise thousands of dollars in cash donations and have people and businesses throughout southeast Alberta gathering much-needed items.
"All of the Tru-Co group of companies are pulling together in a really big way," said Erin Murray, who works for Tru-Co. "Tony was on his way out of the country when he found out. He phoned and told us that this needs to be our top priority."
Through Isaac's charitable foundation, In2Action, more than $10,000 was raised in cash donations by Friday afternoon and pallets upon pallets of non-perishable food items and other goods were being shipped to Edmonton for evacuees.
"With the economy the way it is, everybody has trials and tribulations right now, but people want to help. This is our way of providing them with a way to help out," said Murray.
Rosenau Transport donated the trucks and trailers to haul the goods to Edmonton.
"Dillon Rosenau has a location in Fort McMurray and 15 people there lost their homes. That was what brought him onboard. We would not be able to do this if it wasn't for him," said Murray.
They will continue to accept donations as long as the need is there, Murray said.
"We are taking it day-by-day and so far, the support has been overwhelming," she said.
Marlaina Beauchamp and John Wieler were manning the drop-off location in Bow Island on Saturday and said that while they are not currently accepting clothing or furniture, they were looking for Cheez Whiz, peanut butter, sunscreen, insect repellent, apple sauce, baby food in plastic containers, and toiletry items, as well as pet food.