Elkwater golf club to hold 50th birthday bash
Posted on May 17, 2016 by 40 Mile Commentator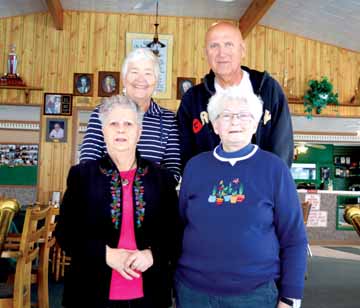 PHOTO BY TIM KALINOWSKI- Fifty-year anniversary committee members Lynn-An and Nick Fisher (back row) and Shirley Rasmussen and B.J. Maddaford have been busy planning the celebrations for the 50th anniversary of the Elkwater golf club.
By Tim Kalinowski
It has been a remarkable 50 years for the Elkwater Park Golf Club. Much has changed since those early years, and there is still much to come in the years ahead. But 2016, for all golf club members, is about celebrating the here and now.
"I think it's a celebration of the vision of what the original board members wanted," says Lynn-An Fisher, who has been a member since 1969. "They looked at establishing a little golf course in the Cypress Hills as part of the park, and 50 years later here we are. It's just been an awesome 50 years of improvement!"
"I spent a fair amount of time golfing with the original signers for the charter for the course," says Lynn-An's husband Nick, also a member since 1969. "Their vision was to have a club where they could golf at leisure, and, to compound that, it was a social gathering for them. Not only did they come up here to enjoy what was then a Broom grass course, but also to enjoy each other's company and their families' company."
Lynn-An doesn't think the club's purpose has changed all that much over the years; even if its facilities, and the course itself, have seen a complete makeover in the years since.
"It was always a place where I could come out and golf and there wasn't maybe the pressure of the bigger golf courses. We could go out and take our time. There was a real feeling of relaxation. And you didn't have to be a good golfer; you could be a duffer and still have a good time," she says with a laugh.
Club member B.J. Maddaford agrees entirely. She first learned to play golf in the Elkwater Park Golf Club's Ladies League when she was nearly 70.
"The ladies were so patient with me… I enjoy the camaraderie of everyone out here. Everybody knows your name and says 'hi.' There are no Tee Times here; it's first come, first serve. Once you are a member you can come up here anytime, and golf as much as you want," she says.
Shirley Rasmussen, who first joined the Elkwater Park Golf Club as a member in 1981, says there is a big reason for the great consistency of experience over the years.
"Everything has been volunteer-driven," she explains. "We are a non-profit society that's all volunteers. Without their help, all these years would have never happened."
On June 24 during the Elkwater Park Golf Club's annual "President's Best Ball Tournament" the members will hold a very special celebration ceremony commemorating the Club's 50th year of inclusive, fun, family recreation.
"That's going to be a big celebration," confirms Lynn-An. "We are going to try to get as many members, or past members, out. And also members of the public."
In preparation for that big day, the Elkwater Park Golf Club is erecting a new 50th anniversary sign for the club and is seeking the names of all past club presidents to take part in a special ceremony. That have also planted 50 new trees in the driveway leading up to the course and stocked their course with special commemorative 50th anniversary golf balls.
And during the President's Best Ball Tournament weekend itself groups of up to four golfers will be able to play an entire round of golf for just $50.
For more information on Elkwater Park Golf Club's anniversary celebrations and events, or if you know any past presidents' names, call the clubhouse at 403-893-2167.