Foremost grads are on their way
Posted on May 31, 2016 by 40 Mile Commentator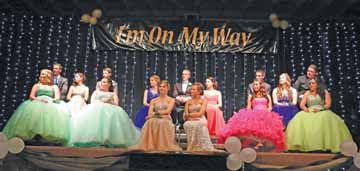 Photo by Jamie Rieger- The Foremost grads listen to the encouraging words by guest speaker, Garth Van Gaalen.
By Jamie Rieger
"I'm on my way" was the theme for the Foremost School graduation, held on Friday evening and the elequantly dressed graduating class showed they are certainly ready to take on the world as they say good-bye to their high school years.
and finish strong," said Van Gaalen.
Valedictorian Tamara D'Agnon thanked the parents and teachers who helped the grads successfully get through the last 12 years of school.
"We learned from you and made many mistakes along the way, but we all have great memories," she said.
Garth Van Gaalen was the guest speaker for the ceremony and talked to the graduates about always striving to reache their goals, but to also always have faith in a higher power.
"Find your support. It guides you, keeps you humble, and gives you peace. Put in extra effort
Cypress-Medicine Hat MLA Drew Barnes brought words of congratulation on behalf of the province.
"You will be challenged along the way until one day you will be the one challenging the world," said Barnes. "May you never stop challenging, never stop learning as you forge ahead."
The 2016 Foremost graduates are: Logan Bodin, Josie Britschgi, Tamara D'Agnon, Shaylin Darley, Devyn Hobbs, Cade Hollingsworth, Kaitlin Matthews, Codi Payne, Austin Piper, Kourtney Pozdnekoff, Paige Reimer, Cailey Schatz, Darci Snortland, Kristin Van Arragon, and Julie Walsh.